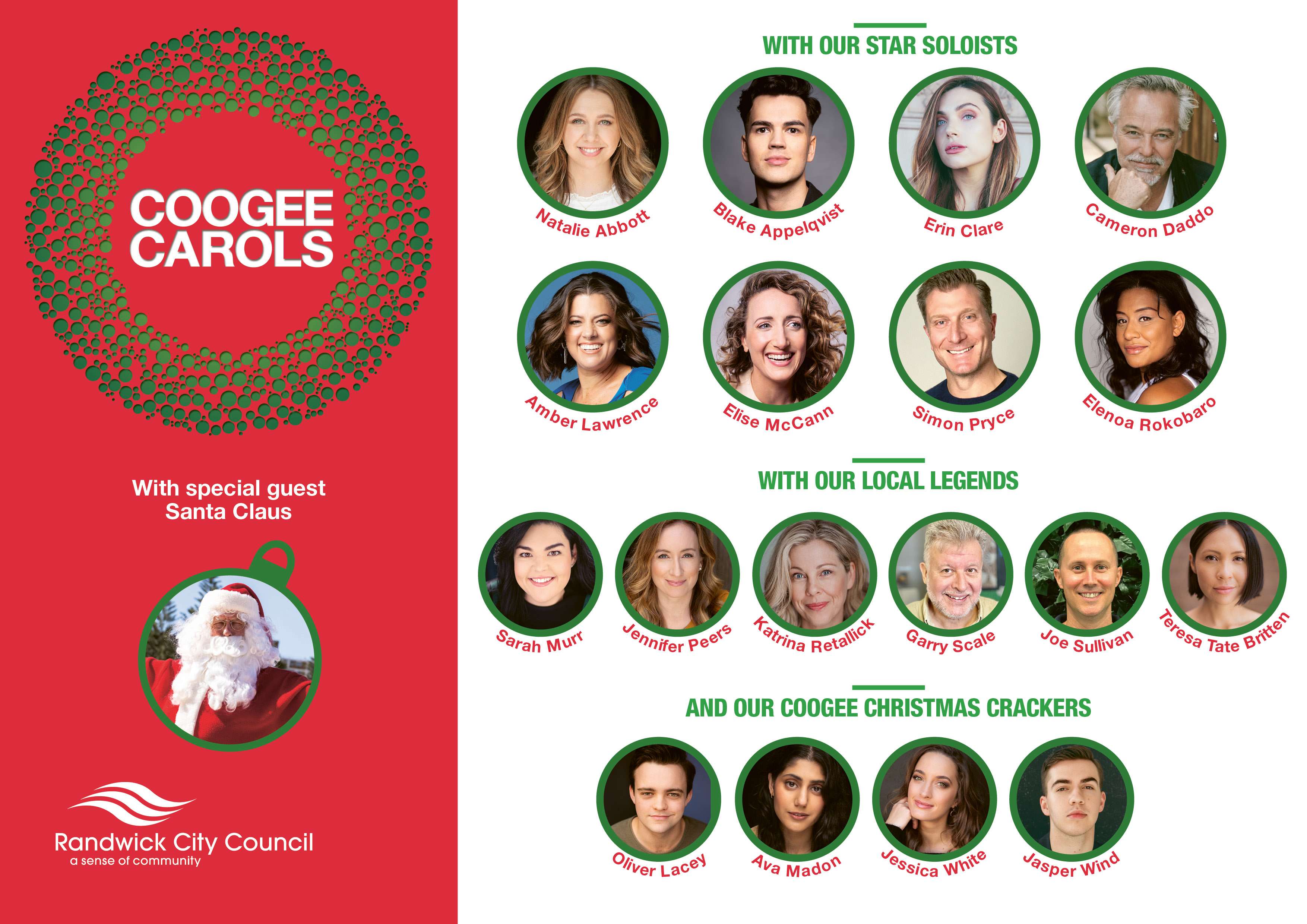 Randwick City Council presents the 22nd Annual COOGEE CAROLS at the Goldstein Reserve, Coogee Beach on Sunday, 17 December from 6:30pm until 8:30pm.
A free event that draws an audience from local and surrounding areas to celebrate community, family and the spirit of Christmas, opposite one of the most beautiful beaches in the world for a relaxed night of fun for everyone to enjoy.
"Coogee Carols is one of our community's most-loved events. It's the perfect combination of good cheer, good times and good fun! This talent is always extraordinary and the crowd grows bigger each year. I'm looking forward to joining together with our community to celebrate the start of the festive season." said Councillor Philipa Veitch, Mayor of Randwick.
Celebrities and local personalities will appear at COOGEE CAROLS performing traditional and contemporary carols, supported by a seven-piece band, and of course a special appearance by Santa.
Star Soloists this year include 6 Times Golden Guitar Winner Amber Lawrence, Red Wiggle Simon Pryce, star of Lady Day Elenoa Rokobaro, direct from the stage musical Mamamia, Elise McCann, star of 9to5 Erin Clare, everyone's favourite Cameron Daddo, currently filming the new Rebel Wilson film in outback NSW Natalie Abbott and one of the Stars from &JULIET Blake Appelqvist.
Local legends include Joe Sullivan, Katrina Retallick, Teresa Tate Britten, Sarah Murr, Jennifer Peers and Gary Scale.
With our wonderful backing singers the Coogee Christmas Crackers:
Ava Madon, Jasper Wind, Oliver Lacey and Jessica White.
The Hosts for 2023 will be announced soon
Key Facts:
COOGEE CAROLS
VENUE: Goldstein Reserve, foreshore at Coogee Beach
DATE: Sunday 17 December 2023 – 6:30pm to 8:30pm
FREE EVENT
Contact details:
Michelle Guthrie
michelle@michelleguthrie.com.au
0412547297