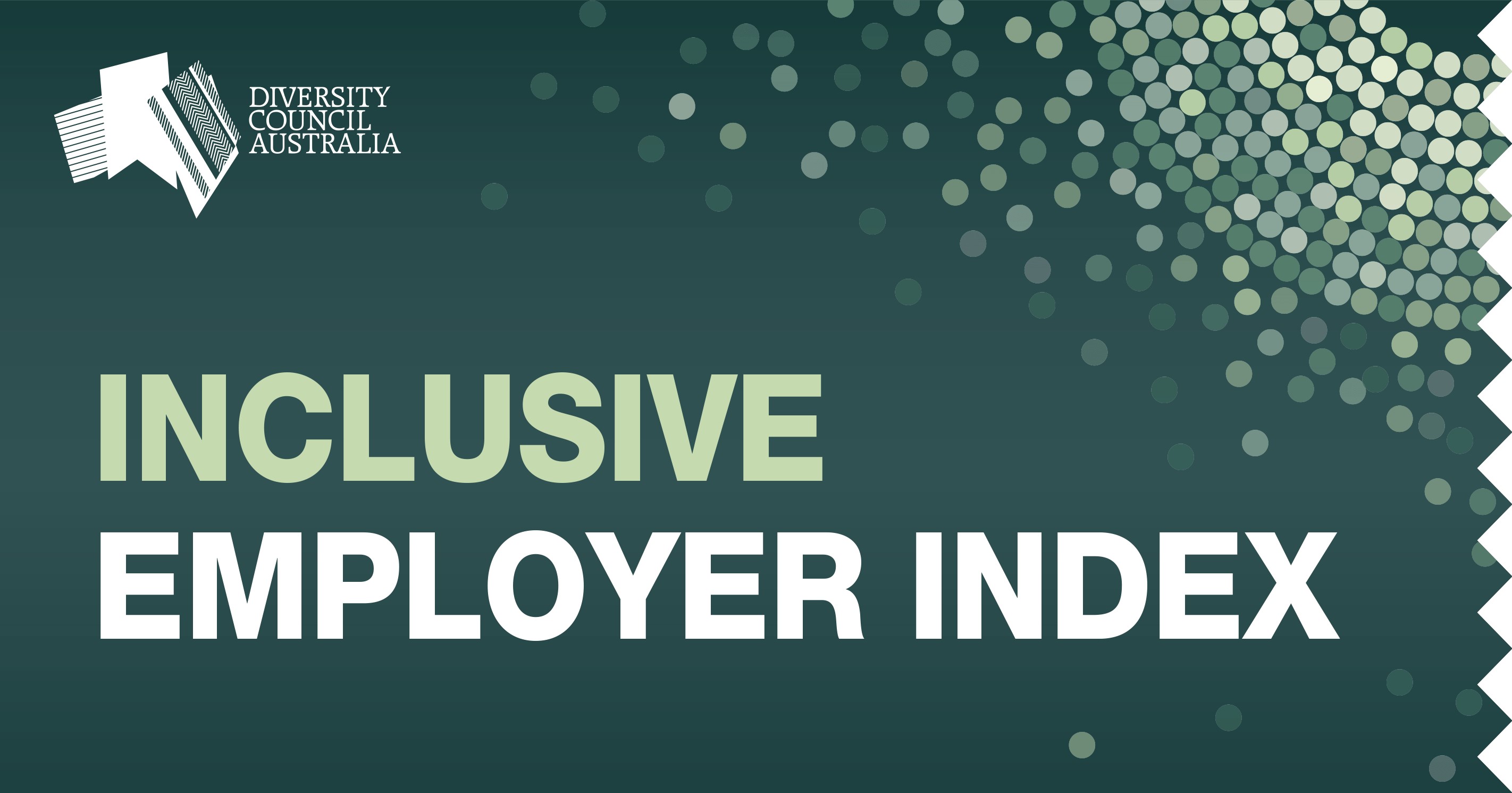 To celebrate Inclusion at Work Week, Diversity Council Australia has revealed which employers earned a spot on its 2023-2024 Inclusive Employer Index.
This year a record 82 organisations were recognised for their commitment to diversity and inclusion, representing a broad range of employers from art galleries and sporting bodies to pharmaceutical and agricultural machinery manufacturers.
Produced in partnership with Cultural Infusion, the Inclusive Employer Index enables organisations to comprehensively assess and monitor the state of diversity and inclusion in their workforce.
To make the list, participants must prove their commitment to diversity and inclusion by having employees complete an in-depth survey to map the state of inclusion in their workplace - and produce results that exceed national benchmarks on a series of key measures.
This announcement coincides with DCA's second annual Inclusion at Work Week which celebrates all the great work Australian organisations do to foster a more inclusive and diverse workforce.
Inclusion at work is much more than just a "feel good" exercise. DCA's most recent Inclusion@Work Index shows workplace inclusion significantly increases performance, wellbeing and innovation. Plus, workers in inclusive teams are:
three times less likely to leave their organisation
more than twice as likely to work extra hard
almost 10 times more likely to be innovative
four times more likely to provide excellent customer service.
"DCA is delighted to reveal this year's list of Inclusive Employers," DCA CEO Lisa Annese said.
"We know that inclusion has significant benefits for both employers and employees. DCA's Inclusive Employers Index is a rigorous process that reveals the state of inclusion and diversity across participating organisations.
"It's an opportunity for workplaces to show their commitment to inclusion, reflect on their achievements and identify ways to do even better.
"Recognition as an Inclusive Employer means your organisation is doing the necessary work to create a welcoming and inclusive workplace where everyone feels valued and respected."
See the full list of 2023-2024 Inclusive Employers.
See below for a selection of quotes from this year's Inclusive Employers:
Ashraf Al-Ouf, CEO, Bayer Group ANZ said:
"This recognition reaffirms Bayer's commitment to creating a workplace where every individual is encouraged to bring their authentic selves to work. It's a reminder that our differences are our greatest strengths."
Patty Kinnersly, CEO, Our Watch said:
"Our Watch is committed to creating a work environment where all employees are respected and valued. We are pleased to be recognised by the Diversity Council Australia as an Inclusive Employer.
"We know that preventing violence against women and their children takes place where we work, live, learn and socialise. Through our commitment to challenging gender inequality and intersecting forms of discrimination, we will continue to celebrate the diversity of our team and foster an inclusive working environment where all employees can thrive."
Kate Holsgrove, acting CEO, Perth Airport said:
"Diversity and inclusion are an ongoing journey. We're not just bringing our employees along with us on that journey, they are guiding our way. To be rated as an inclusive employer recognises our team's efforts to build a better workplace for all employees. It lets us know we're on the right track and will inspire us to even greater efforts."
Dean Banks, Group CEO, Ventia said:
"The feedback we received from our people through this Inclusive Employer survey provided insights into what we are doing well and what we need to do better going forward, in line with our focus on improving every day. We are always looking to elevate our performance, and listening to the voice of our people is the best way we can inform our actions."
Simon Sheikh, CEO, Future Group said:
"Future Group's mission is to reduce climate change and inequality so I'm deeply proud of the work we do internally as a business to celebrate our diverse employee base, and ensure we include everyone's voices at the table. DCA's Inclusive Employer award is testament to the strong leadership and impact our team plays in the diversity, inclusion and equity space."
Dawna Wright, Senior Managing Director Forensic & Litigation Consulting and Co-Chair of FTI Consulting Australia's DI&B Committee said:
"Our participation in the Inclusion@Work survey process wasn't about being recognised or getting an award. We wanted to participate to be able to benchmark ourselves externally, helping us focus our efforts and attention in the areas most required.
"For FTI, D&I isn't a destination, it's a journey and the data provided through this process is going to enable us to continue to learn and adapt our approaches."
Dr Katrina Lines, CEO, Act for Kids said:
"The power of inclusion goes far beyond our organisation. When our team members feel a sense of belonging, it directly translates into better outcomes for the children, young people and families we work with. Our dedication to inclusivity goes to the very heart of our purpose – we help keep kids safe, heal from trauma and lead happy lives."
Luke Chandler, Managing Director, John Deere Limited – Australia & New Zealand said:
"Achieving Inclusive Employer Status through Diversity Council Australia for the third year in a row is an incredibly proud moment for John Deere. An inclusive workplace is not the result of the actions of one, but the actions of many.
"Each year, this assessment has provided us with valuable insight in where to focus our efforts to ensure we offer an inclusive workplace for everyone."
Beverley McGarvey, Executive Vice President & Chief Content Officer, Head of Paramount+, and Jarrod Villani, Executive Vice President, Chief Operating and Commercial Officer & Regional Lead, Paramount ANZ said:
"Inclusion permeates every aspect of our business from the content we feature on our platforms and channels through to our team members at Paramount Australia. We're very proud to be recognised as an Inclusive Employer and know that nurturing a diverse team is not only the right thing to do, but also has a positive impact on our business promoting wellbeing and a positive work environment that boosts productivity."
Susan Pettifer, Director - People, Performance & Technology, City of Sydney said:
"Diversity, equity and inclusion are long-held values at the City of Sydney. Working with DCA has helped us to translate these values into more deliberate action that will benefit our workplaces and our employees. Our inclusion in the DCA list is a reflection of the work we have done over many years to create and maintain a safe, respectful and collaborative workplace."
[ENDS]
Media Contact: Ali Coulton | media@dca.org.au
About DCA: Diversity Council Australia is the independent not-for-profit peak body leading diversity and inclusion in the workplace. We provide unique research, inspiring events and programs, curated resources and expert advice across all diversity dimensions to a community of over 1,300 member organisations. Our member organisations are estimated to employ nearly two million Australians, representing more than 20% of the workforce.