The Financy Women's Index (FWX) rose to 78.1 points in the September quarter, reflecting further, albeit small, advancement towards economic equality in Australia.
The result is the best gain in two years and cements a correction in women's financial progress following a decline associated with the Coronavirus pandemic.
The Index rose 2 per cent (1.5 points) to 78.1 points in the September quarter from 76.6 points out of 100 in the June quarter, helped by an improvement in female underemployment and a shift among women studying educational fields linked to higher expected career earnings.
Bianca Hartge-Hazelman, founder of Financy says the Women's Index is now 1.9 points higher for 2023, which is good news despite the challenges of a slowing economic environment.
"During the peak of the pandemic, the underlying data captured in the Index was volatile and if we compare where we are today to September 2020, the Index is less than 1 point (0.84) higher – a poor result.
"That said, if we look at economic equality prior to the pandemic in December 2019, the Index is nearly 5 points higher today than it was then. This suggests a correction in the Index to a more reliable pattern of progress, but the economic environment remains concerning for both female and male employment."
A slowing economy is behind a bit of a switch from full-time to part-time employment growth by employers. This has been particularly noticeable in female underemployment.
The female underemployment rate improved (7.36 per cent) in the September quarter as more women worked part-time. The male underemployment rate (5.59 per cent) worsened – this helped to narrow the FWX Underemployment sub-index. The number of monthly hours worked by women in the September quarter dipped only just (-0. l per cent) compared to a bigger fall of -1.3 per cent for men.
In Education, Information Technology remains the highest paying educational area for women and has seen female enrolment growth continue to outpace male. Despite this, female enrolments stand at 21,006, about a third less than the 73,716 for male.
Management and Commerce, ranks as the third top paying area for women and female enrolment growth is also higher than it is for male.
Overall, the combination of sustained gains across all FWX indicators comes at a time of increased focus on gender equity policy and research.
"Domestically, we've seen the Women's Economic Equality Taskforce Final report handed to the Australian government and, offshore, the awarding of the Nobel Prize in economics to Professor Claudia Goldin for her research that has raised the profile of the gender pay gap and what is behind it – so it's been a busy period of gender equity headlines and impact," says Hartge-Hazelman
"What's needed now is for the tide to turn from all this awareness raising on economic inequality to an environment of collective action by government, companies, and individuals to accelerate progress to equality," she says.
"The Financy Women's Index shows we clearly still have a long way to go to achieve gender financial equality," said Dr Shane Oliver chief economist AMP.
"This is particularly so in areas like the expected earnings flowing from the education choices women make and in unpaid work.
"But the good news is that the Index has improved significantly this year with strong progress in women's board representation," he says.
Dr Tracey West, financial education manager at Ecstra Foundation says that critical to closing the financial knowledge deficit and empowering women to make informed financial decisions is boosting financial education in schools.
"The call to action from the Women's Economic Equality Taskforce Final report, which was released in October, to recommend immediate action on financial literacy in the classroom recognises the important role schools play in developing this critical life skill," she says.
Natalie Previtera CEO of NGS Super added that it's important we continue to think about gender financial equality beyond women's years in the workforce.
"We know that women are more likely to experience poverty in retirement than men. An ASFA report found that the average superannuation balance for women aged 60-64 is $70,691 less than that of men," she says.
Chart 1: Changes in years to financial gender equality
Source: Financy Women's Index September 2023
Note: Due to significant changes and volatility in the underlying datasets used to calculate the timeframe to equality (Census, uCube and VOCSTATS) we are reassessing our current methodology (which uses a line of best fit approach) and will be updating this figure in the December quarter 2023 report, due for release in March 2024.
Chart 2: Changes in FWX quarterly performance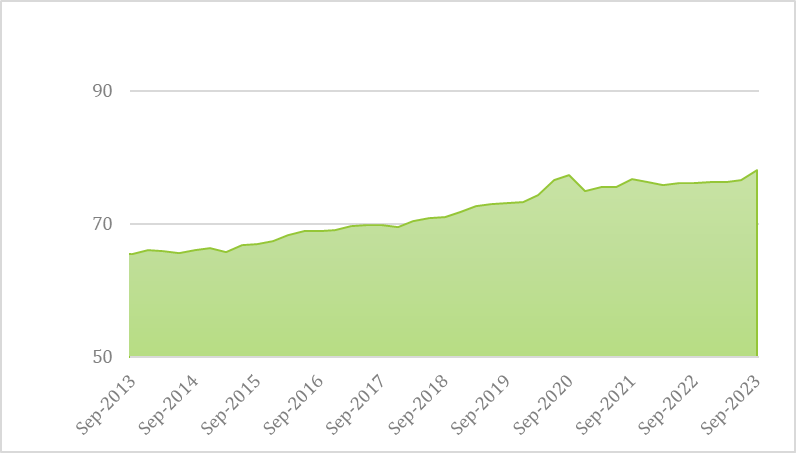 Source: Financy Women's Index September 2023
Key Facts:
Highlights:
· The FWX rose 1.5 points in the Sept quarter to 78.1 points as the recovery continued in gender financial equality.
· The FWX Education sub-index improved slightly to 92.9 points from 92.6 points in June helped by more women studying courses linked to higher expected career earnings and improved wages growth in the Health sector.
· The FWX Underemployment sub-index also gained as the underlying gender gap improved amid a further jump in female part-time employment growth relative to male.
· On current trends, Education choices remain the biggest barrier with years to equality exceeding 100, there is a 44-year wait for equality in Unpaid Work, 26.7 years in Employment, 24.3 years in the Gender Pay Gap, 19.9 years in Underemployment, 19 years in Superannuation Savings and 5.7 years in ASX 200 Board Leadership.
About us:
About the Financy Women's Index:
The Financy Women's Index TM (FWX) is a quarterly measurement of the economic progress of women and timeframes to gender equality in Australia. The FWX was recently recognised in the 2023 Recalibrate Gender Equity Awards in Melbourne, hosted by Business in Heels. The Index is produced by Financy, which is a social impact-driven company covering gender equality, diversity and inclusion and a provider of purpose-driven tech such as the IMPACTER. The Index is supported by an Advisory Committee which includes Dr Shane Oliver, Simone Cheung, Roger Wilkins, Leonora Risse, Bruce Hockman, Rhiannon Yetsenga and Nicki Hutley. The Index is proudly sponsored by NGS Super, the Ecstra Foundation, Aspire Planning, Seven Consulting, Bespoke Co and PritchittBland Communications. The Financy IMPACTER, in an initiative made possible in partnership with the University of South Australia.
For media enquiries or information on the report, please contact:
Bianca Hartge-Hazelman
Author Financy Women's Index:
M: 0403 656 399
Contact details: