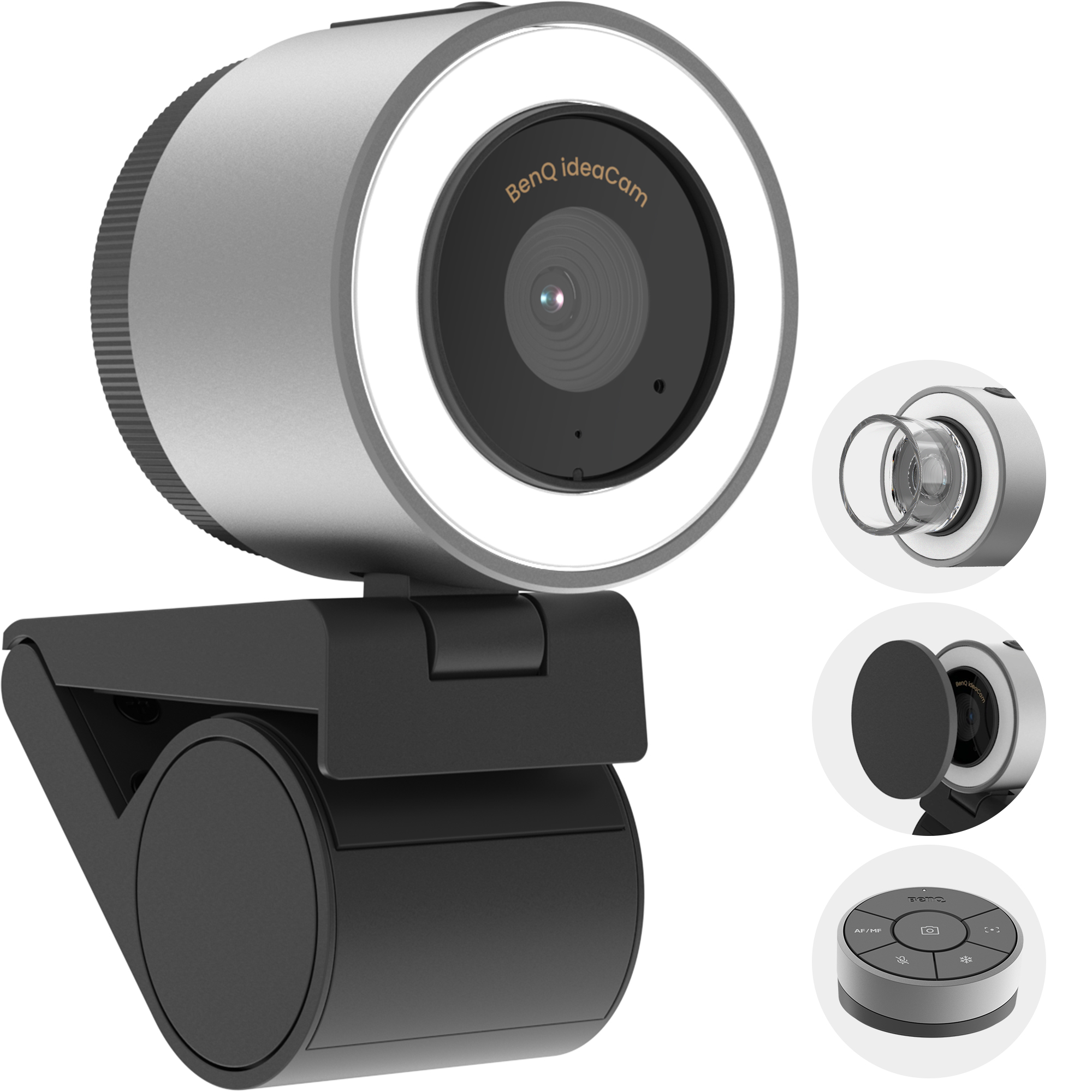 Introducing a specialized multi-mode desktop webcam designed specifically for creators and makers, offering unparalleled flexibility and high-resolution video.
As remote work and learning continue to transform daily lives, the demand for high-quality webcams has never been greater. Recognizing the need for versatile and high-resolution video capabilities among creative professionals, BenQ is proud to introduce the BenQ ideaCam, a specialized multi-mode desktop webcam designed specifically for creators and makers.
The BenQ ideaCam revolutionizes the creative possibilities with its four shooting modes: Portrait, Desk View, Handheld, and Macro. While the Portrait mode provides a familiar webcam experience, Desk View enables effortless display of objects or documents on the desktop. The intelligent auto-flip feature seamlessly transitions between Portrait and Desk View modes, automatically rotating and focusing the image. Handheld mode offers unique camera angles and immersive close-ups, while the magnetic Macro lens provides detailed magnification of 15 times.
Equipped with an 8-megapixel Sony sensor, the ideaCam sets a new standard in visual experience. It delivers near-4K imagery with an optimized resolution of 3264x2488 pixels, within a 4:3 aspect ratio. This design is particularly effective for capturing desk books and objects, offering visuals that are nearly four times as clear as traditional 1080P, infusing life into every frame with its clarity and vibrancy.
Not only does the ideaCam excel in visuals, but it also offers consistent, balanced lighting with its built-in ring light, perfect for every handheld capture. Additionally, the 15X Macro lens effortlessly unveils the finest details, enhancing the overall creative experience.
Rounding off its robust features, the ideaCam is equipped with an integrated noise-canceling microphone. This makes it far more than a camera - it's the creative companion, designed to cater to different professionals' needs.
Complementing the ideaCam's features is the exclusive Enspire software developed by BenQ—a visual presentation and communication platform that allows users to easily showcase documents, objects, and images with precision. With features like image freeze, zoom, live annotation, and measurement display, Enspire brings creations to life and is compatible with popular platforms like Zoom, Microsoft Teams, and Google Meet.
To simplify navigation through the software's various features, BenQ has also introduced the EnSpire Control Puck, a dedicated remote control designed specifically for use with the software. This user-friendly device elevates the user experience by enabling resizing, refocusing, and muting, eliminating the need for complex interfaces.
While other dual-mode desktop webcams exist, none offer the seamless integration of quality and versatility found in the BenQ ideaCam. With its multiple shooting modes, Enspire visual software, and Control Puck, the ideaCam empowers creators to efficiently showcase their work in an increasingly competitive online space.
Tackling creative projects in a remote setting can be challenging, but with the right tools, professionals can thrive. The BenQ ideaCam specializes in displaying documents, objects, and materials, while the handheld mode unlocks new perspectives to captivate audiences.
BenQ ideaCam in BenQ AU: https://www.benq.com/en-au/ideacam/supreme/s1-pro.html
BenQ ideaCam in Amazon AU: https://www.amazon.com.au/dp/B0BPB1R3QR
About us:
About BenQ Australia Corp.
The world-leading human technology and solutions provider, BenQ aims to elevate and enrich every aspect of consumers' lives by designing products with a purpose. BenQ sells and markets innovative technology products, consumer electronics, computing, and communications devices. Founded on the corporate vision of "Bringing Enjoyment N' Quality to Life," BenQ focuses on the aspects that matter to most people today – lifestyle, business, healthcare, and education - with the hope of providing people with the means to live better, increase efficiency, and enhance learning by providing people-driven products and embedded technologies spanning digital projectors, monitors, interactive large-format displays, audio products, cloud consumer products, mobile communications, and lifestyle lighting. Because it matters. For more information about products and to purchase, visit https://www.benq.com/en-au/index.html.
Contact details:
Ivy Su, BenQ Australia Corp, +61289886500, ivy.su@benq.com