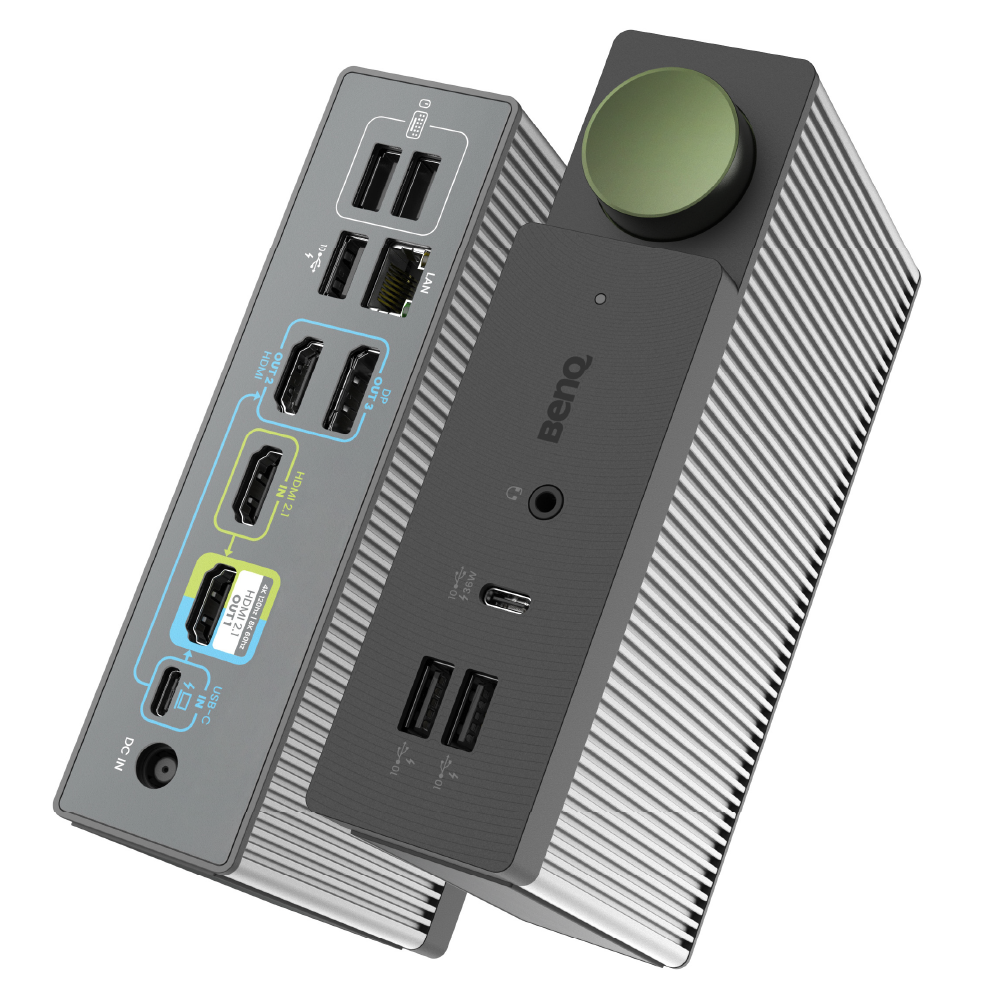 BenQ introduces the beCreatus DP1310 Hybrid Dock, featuring an industry-leading dual-source integrated design which utilises both USB-C and HDMI inputs. Programmers, creators, designers, editors all understand one thing; more displays translate to higher productivity. As the hybrid and remote workstyle gains popularity, people increasingly rely on their home workstations to double as an entertainment hub. Whether it's for work or play, the beCreatus DP1310 Hybrid Dock seamlessly facilitates switching between inputs. The two input sources, USB-C and HDMI, come with a dedicated switcher button, allowing you to switch between sources with a single press. Transition effortlessly from editing, gaming and browsing with a simple touch.
With the USB-C input, you can easily add new displays as needed to create the screen space you require. Connect up to three monitors at 4K resolution for maximum productivity and enjoyment. The HDMI 2.1 input supports higher resolutions, up to 8K at 60Hz and 4K at 120Hz, for the ultimate visual experience when playing your favourite games.
Work-from-home configurations often strive to emulate the office environment, and this frequently necessitates the use of multiple displays. With the beCreatus DP1310 Hybrid Dock, you can connect up to three monitors at 4K resolution when utilizing the USB-C input. The HDMI 2.1 output can display 4K resolution at 120Hz or 8K resolution at 60Hz, while supporting Dolby Atmos audio and HDR visuals.
This dock is compatible with M1/M2 chipsets, and can extend displays across three screens on Apple computers using the USB-C input. Its five USB ports are easily accessible from front or back, including two USB-C 3.1 Gen 2 ports with 10Gbps data transfer speed. One of these provides an incredible 100W power distribution for super-fast laptop charging, while the other with 36W charging for smartphones and tablets. Additionally, it offers three USB-A 3.1 Gen 2 ports, boasting 10Gbps data transfer speed and 7.5W power distribution. The package includes a BenQ USB-C 3.2 100W 4K braided cable and an HDMI Association Certified HDMI 2.1 1.8m cable. It is compatible with most gaming consoles, including the PlayStation 5, Xbox Series X and Xbox Series S, allowing you to elevate your gaming experience to the next level. Whether you need top-notch display quality, lightning-fast data transfer speeds or rapid charging, this hybrid dock offers everything you could ever desire.
Create the hybrid workstation of your dreams with the beCreatus DP1310 Hybrid Dock. Its compact design fits any workspace. It works equally well horizontally or vertically, fitting seamlessly into any workspace whether you prefer a horizontal or vertical orientation. Regardless of your location or specific requirements, this docking station is designed to accommodate you and your space effortlessly. Featuring 13 ports, with four in the front and nine in the back, it offers you the ultimate flexibility. You no longer need to choose between work or play; you can seamlessly switch between the two. The aluminium alloy housing is well-ventilated to ensure everything remains cool and quiet. Its unique grill design provides double the cooling efficiency compared to other docking stations. Furthermore, it is rugged and sturdy with anti-slip padding, ensuring reliability and safety are never a concern.
This dock is compatible with a wide range of operating systems, including Windows, macOS, ChromeOS, Ubuntu and Android. Whether you're a professional seeking extra screen space for enhanced productivity or someone who desires multiple displays in your everyday life, the beCreatus DP310 Hybrid Dock is the perfect solution for you.
BenQ is committed to Environmental, Social and Governance (ESG) practices and these values are reflected in all our products. All manuals and instructions are digitised and fully paperless, and our packaging is both reusable and 100% recyclable. We will not compromise on the quality of our products or our dedication to ESG practices. You can rest assured that the beCreatus DP310 Hybrid Dock is designed to be the most environmentally friendly product it can be.
For more information, please visit
DP1310 in BenQ AU: https://www.benq.com/en-au/docks-hubs/becreatus-dock/dp1310.html
DP1310 in Amazon AU: https://www.amazon.com.au/dp/B0CB5CRZ5T
About us:
About BenQ Australia Corp.
The world-leading human technology and solutions provider, BenQ aims to elevate and enrich every aspect of consumers' lives by designing products with a purpose. BenQ sells and markets innovative technology products, consumer electronics, computing, and communications devices. Founded on the corporate vision of "Bringing Enjoyment N' Quality to Life," BenQ focuses on the aspects that matter to most people today – lifestyle, business, healthcare, and education - with the hope of providing people with the means to live better, increase efficiency, and enhance learning by providing people-driven products and embedded technologies spanning digital projectors, monitors, interactive large-format displays, audio products, cloud consumer products, mobile communications, and lifestyle lighting. Because it matters. For more information about products and to purchase, visit https://www.benq.com/en-au/index.html.
Contact details:
Ivy Su, BenQ Australia Corp, +61289886500, ivy.su@benq.com