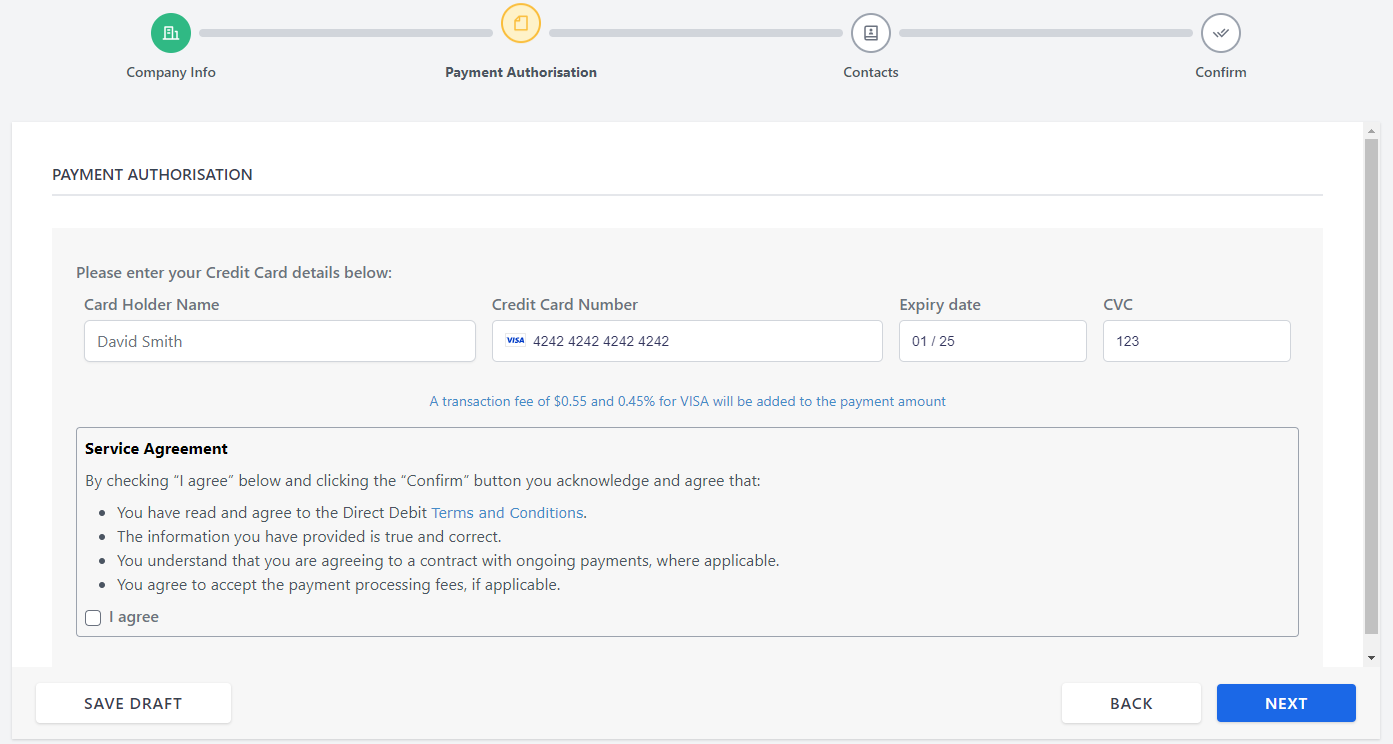 Sydney, NSW, November 9, 2023 – ezyCollect, a leading innovator in B2B payment automation solutions, proudly introduces its latest feature – the Direct Debit Authorisation (DDA) on Customer or Credit Applications. This new addition empowers businesses to streamline recurring payment collections during client onboarding, ensuring timely and hassle-free payments.
AJ Singh, CEO of ezyCollect, expressed enthusiasm about this latest addition, stating, "We are thrilled to introduce our new Direct Debit on Customer or Credit Applications feature. This update not only makes it more convenient for businesses to receive timely payments but also provides a seamless onboarding experience for their customers."
Jane Evio, Head of Customer Success at ezyCollect, offers insight, explaining that the traditional method of obtaining automated payment commitments through separate DDA forms "proves to be cumbersome for both businesses and customers," adding that "often, these are paper-based or manually done." She emphasises that "with the introduction of our DDA on Online Customer or Credit Application Forms, we offer a practical yet transformative solution to address these challenges head-on."
The DDA on Customer or Credit Application Forms feature seamlessly integrates with ezyCollect's online Credit Application forms. Once enabled, customers can conveniently authorise direct debit payments as part of their customer or credit application. Following approval of the credit application, businesses can automatically collect payments, eliminating the need for separate DDA forms and chasing down late payments.
This feature delivers a multitude of benefits to businesses:
1. Enhanced Efficiency: By automating payment authorisation during the onboarding process, businesses significantly reduce the time and resources expended on reviewing separate application and DDA forms and chasing late payments.
2. Reduced Churn: Simplifying the application and payment process improves customer satisfaction and lowers churn rates, as customers find it convenient to apply and pay for products and services. The streamlined process also ensures the timely delivery of goods and services.
3. Increased Revenue: Prompt payment collection improves cash flow, leading to increased revenue for businesses.
The collected DDA data can then be tailored to create customised payment plans - collecting payments on agreed schedules or the invoice due dates, further facilitating the acceptance and management of instalment and recurring payments.
The DDA on Online Customer or Credit Application Forms is available as a premium feature to all ezyCollect customers. For detailed information, please visit ezycollect.io.
Key Facts:
- ezyCollect introduces the Direct Debit Authorisation (DDA) on Online Customer or Credit Application Forms as a premium feature for customers
- This feature simplifies the onboarding and credit applications process, eliminating the need for separate DDA forms and ensuring timely payments as early as onboarding.
- Captured DDA can be used to create customised Payment Plans, improving the management of instalment and recurring payments
About us:
About ezyCollect
ezyCollect is a fully integrated Accounts Receivables automation, Credit Risk Management and Debtor Management platform that transforms business' cashflow & automates the order-to-cash cycle. The product suite covers AR automation and workflows, integrated payments, credit risk scoring and digital credit applications. ezyCollect is trusted by B2B companies worldwide and manages over $14 billion in receivables.
ezyCollect streamlines cash flow & debtor management for businesses with an automated AR platform with integrated digital payments and b2b credit scores. It's a fully automated solution that untangles the complex and often manual accounts receivable function.
Businesses with ezyCollect get paid faster - we looked at the cash flow of 208 businesses before and after using ezyCollect, and their overdue receivables were reduced by 43% 12 months after starting with ezyCollect.
Contact details:
Media Contact:
Shiju Thomas, Head of Marketing & PR
shiju.thomas@eycollect.com.au
[+61 409 847 462]