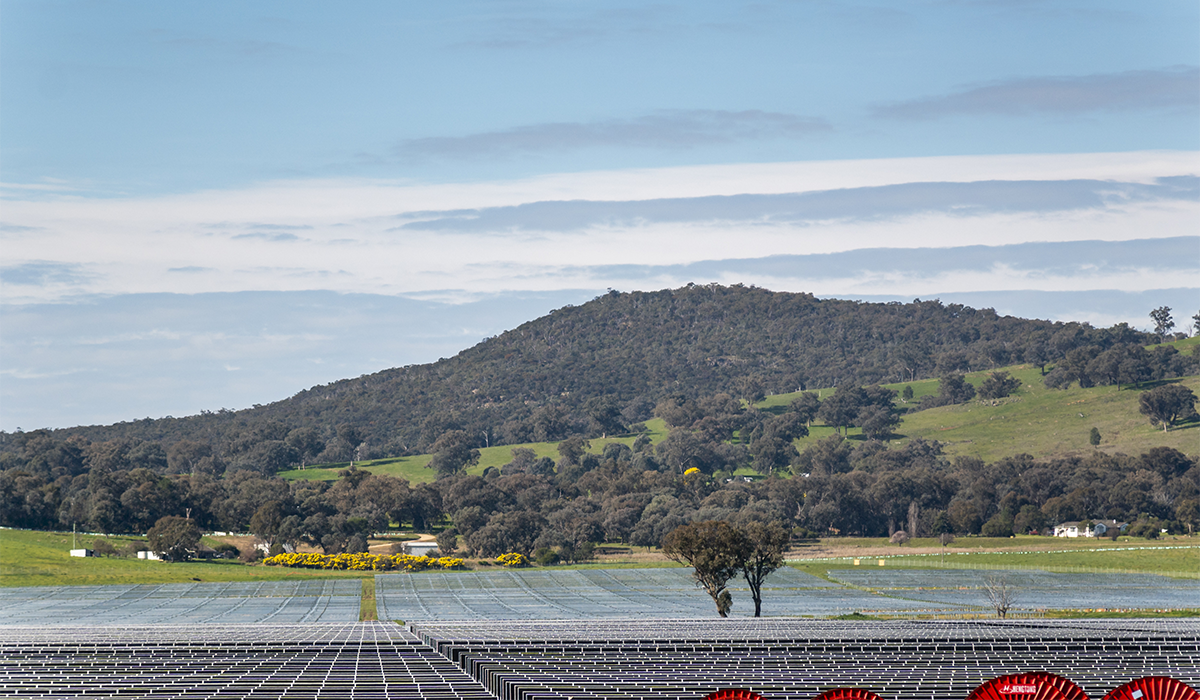 CIMIC Group company Pacific Partnerships energised its 130MWdc solar farm at Glenrowan in northern Victoria this week and will now start supplying renewable electricity to the national network.
Leading greenfield infrastructure developer, Pacific Partnerships, started testing and commissioning the solar farm early this month and achieved first energisation on 21 November 2023.
The solar farm is now set to start exporting renewable energy to the grid in early December 2023 and will ramp up to full production by the end of March 2024.
CIMIC Group Executive Chairman Juan Santamaria said: "Glenrowan Solar Farm will generate enough clean energy to power 45,000 Australian homes and has a 10-year power purchase agreement in place with the Victorian Government, supporting the state's renewable energy targets.
"It is a great example of how CIMIC Group is leveraging expansion opportunities in growth markets for a new generation of infrastructure, right across energy transition, digital infrastructure and technology, and sustainable infrastructure."
Pacific Partnerships' Managing Director Simon Nicholls said: "Glenrowan Solar Farm is now registered as a generator, having been officially welcomed to the network by the Australian Energy Market Operator (AEMO).
"Achieving on-time energisation just one year after construction began is testament to the team's detailed planning, coordination and great working relationship with AEMO."
The 245ha Glenrowan Solar Farm is located in Victoria's North East Renewable Energy Zone (REZ), and has grid connection and services agreements with the Victorian transmission network operator (AusNet) and AEMO.
Pacific Partnerships engaged fellow CIMIC Group company UGL to engineer, procure, construct, operate and maintain the new solar farm.
UGL Managing Director Doug Moss said economic stimulus is being delivered during the construction phase through 125 anticipated full time-equivalent jobs, with up to 70% of the UGL workforce being local workers.
"We aim to add value to the communities where we work across Australia and the Glenrowan Solar Farm is an excellent example of this. In addition to local employment, we engaged the local supply chain as much as possible and worked with local plumbing, survey and mapping, solar farm construction and electrical businesses," Mr Moss said.
"More than $2 million has been spent so far with Victorian social enterprises and Indigenous businesses, including construction of the operations building, fibre optic termination and DC electrical underground cabling subcontractor services," he said.
The next milestone announcement will bring more local benefit, with the first round of $50,000 in benefit sharing funding to be allocated from the project's community benefit program.
"The Glenrowan Solar Farm Community Reference Group has assisted us to assess and select this year's recipients and we look forward to announcing successful applications in time for Christmas," Mr Nicholls said.
About us:
CIMIC Group is an engineering-led construction, mining, services and public private partnerships leader working across the lifecycle of assets, infrastructure and resources projects. CIMIC Group comprises our construction businesses CPB Contractors, Leighton Asia and Broad, our mining and mineral processing companies Thiess (joint control) and Sedgman, our services specialist UGL and our development and investment arm Pacific Partnerships – all supported by our in-house engineering consultancy EIC Activities. Our mission is to generate sustainable shareholder returns by delivering innovative and competitive solutions for clients and safe, fulfilling careers for our people. With a history since 1899, and around 24,000 people in around 20 countries, we strive to be known for our principles of Integrity, Accountability, Innovation and Delivery, underpinned by Safety. CIMIC is a member of the Dow Jones Sustainability Australia Index and FTSE4Good.
Contact details:
Ms Fiona Tyndall, Communications T+61 2 9925 6188