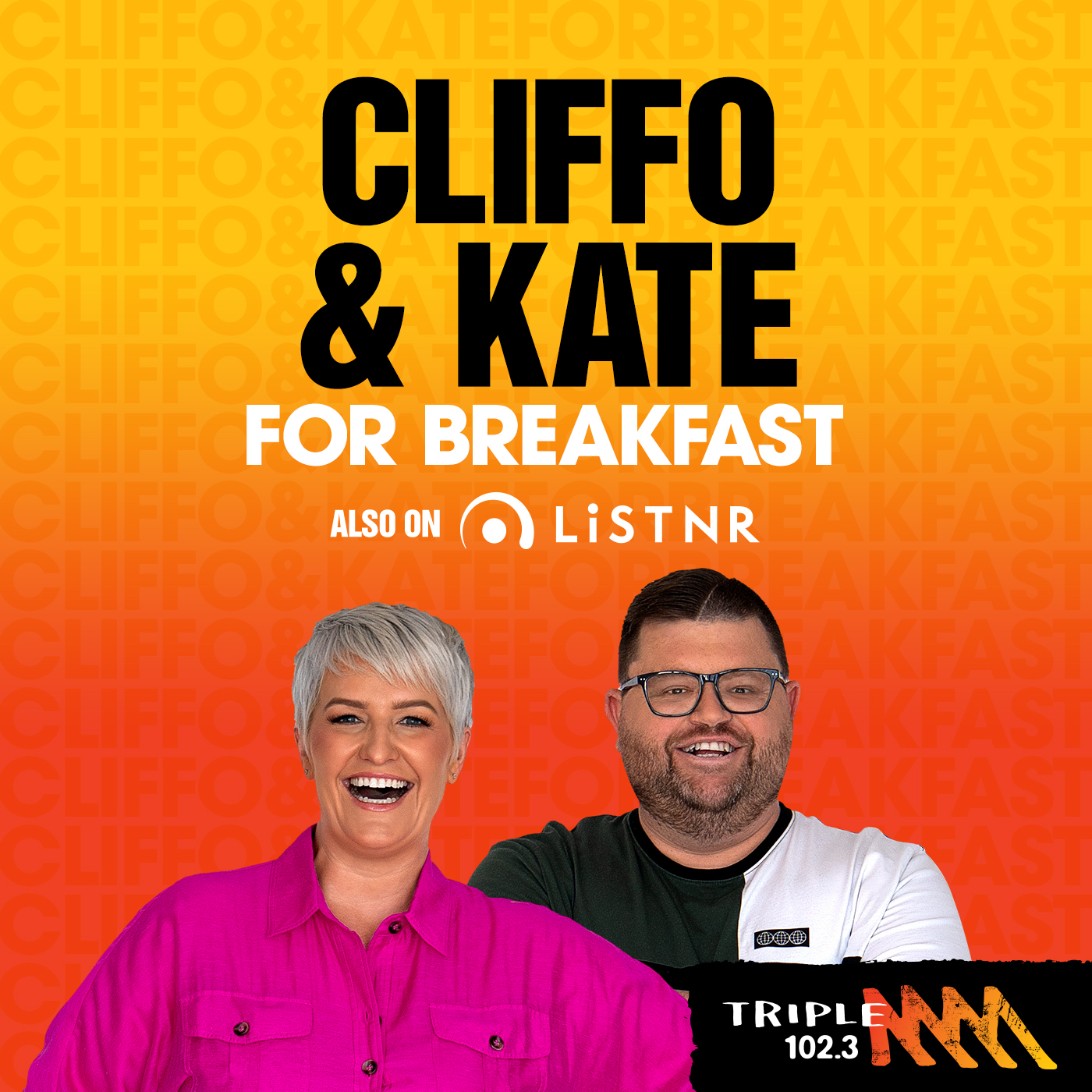 Attention Townsville: Here's what's for Breakfast in 2024!
Two voices and a whole lot of local love - that's the new menu for Breakfast on 102.3 Triple M Townsville in 2024, and they are names that North Queenslanders already know and love in Guy "Cliffo" Clifton and Kate Jeboult.
From January 15 Cliffo & Kate will be the new sound of Triple M brekkie across Townsville.
IMAGES here
"After farewelling the legend that is Steve 'Pricey' Price from 32 years in the Breakfast seat in December, these two are the perfect new era for Triple M; they are both local and passionate about the city and we can't wait to hear their stories and share their journey," said SCA Head of Regional Content, Blair Woodcock.
Guy "Cliffo" Clifton doesn't have far to walk to his new gig – just across the corridor in fact! No stranger to Townsville's airwaves, he has been co-host of Hit Queensland Breakfast for the past two years and has called Townsville home for 12. He's a regular around North Queensland, a foodie, family man and a footy fan, and he loves sharing stories on air.
"After back-announcing Taylor Swift more than 5,000 times over 17 years on the Hit Network I'm excited to hit play on some INXS! My family and I have built a beautiful life in the tropics," said Cliffo.
"To wake up the city I call home every weekday morning is a privilege, and to sit in the chair vacated by Pricey, Australia's newest Radio Hall of Fame inductee, well that is an honour. Bring on 2024!"
Since 2019, Kate Jeboult has celebrated Townsville through her online news portal Townsville Scoop, and now, she has a microphone!
While she was born in Sydney, Jeboult bleeds maroon, specifically, the north Queensland maroon.
She moved to Townsville in 2017 and immediately fell in love with the city. Her two gorgeous children Beau (5) and Stevie (1) were both born in Townsville and will always retain a North Queensland passport, a fact she holds dear to her heart!
She owns her own digital marketing business and created the famed Rose Palooza and Boomless Brunches events, where she partners with local restaurants. Prior to this, she was Business Development Manager for two Quest properties in Townsville. She's run Castle Hill countless times and can tell you the bits to avoid on the Goat Track. She's Townsville through and through.
"I've been a minor showoff most of my life and love a bit of amateur theatre, so I can't wait to get in the studio and start sharing my, and listener, stories. This community is my home, and I am so honoured to be part of each weekday in 2024, sitting beside Cliffo, one of the best in the business," said Kate.
"After filling in on brekkie in August when the incomparable Pricey was on holidays, I had a taste of what breakfast radio feels like, and it feels fantastic. I can't wait for 2024."
For more information please contact: Kath Rose m 0416 291 493 E kath@kathrose.com
About Triple M:
For more than 40 years, Triple M continues to be one of Australia's best-known radio entertainment brands and the only radio network that provides its listeners with a unique combination of Greatest Hits, Sport and Comedy. With 49 stations across Australia, including six digital stations, Triple M 80s, Triple M Almost Acoustic, Triple M Classic Rock, Triple M 2000s, Triple M Country, and Triple M Tradie Radio, Triple M has become known for playing Rock's Greatest Hits, and its iconic talent and shows that get people talking.
The iconic brand entertains more than 3.7 million radio and on demand listeners each week and is home to some of Australia's biggest sporting heroes, comedians and music gurus including Marty Sheargold, Mick Molloy, Mark Geyer, Gus Worland, Margaux Parker, Wendell Sailor, Ryan Girdler, Leisel Jones, James Brayshaw, Billy Brownless, Gorden Tallis, Greg Martin, Mark Ricciuto, Lauren O'Callaghan, Chris Dittmar, Peter 'Spida' Everitt and Andrew Jarman to name just a few! All Triple M's content is available live or on demand on the LiSTNR app.
Contact details:
Kath Rose
0416 291 493
kath@kathrose.com