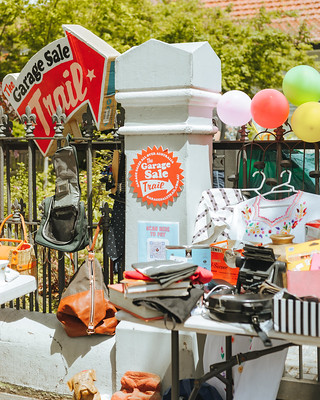 To celebrate the upcoming Garage Sale Trail happening across the country on November 11 & 12 and 18 & 19 and our third consecutive year partnering with PayPal Australia, we're releasing the 2023 PayPal Garage Sale Trail Research Report, revealing how Australians feel about second-hand shopping, particularly during the current cost-of-living crisis.
The 2023 PayPal Garage Sale Trail Research Report showed a thriving circular economy in Australia with two-in-five (43%) having bought something second-hand with the past year, and more than a third (35%) having sold something second-hand over the same period. Attitudes towards purchasing pre-loved were also positive, with two-in-five (40%) agreeing that buying second-hand was now mainstream, and nothing to be embarrassed about, and about the same number (37%) saying they're proud to buy second-hand because it's better for the environment.
The most popular reason to buy second-hand was saving money, with 3-in-5 citing this reason, followed by giving products a second life (43%), and a desire to shop sustainably, reducing waste and landfill.
The survey, completed by more than 1000 Australian consumers, showed that one-in-four (24%) Australians are buying more second-hand goods as prices continue to rise, and a third (31%) say they'll buy even more second-hand if economic conditions worsen.
Thankfully, it's not just buying second-hand goods that can help the hip pocket, as half of all Australians (49%) say they have unused or unwanted stuff around the house that they could sell, which they estimate could earn an average of $1,681.
"This is a challenging time for most Australians, but I'm thrilled that buying and selling pre-loved stuff is helping so many manage their budgets, while helping the environment," said Garage Sale Trail Co-Founder and Director Andrew Valder. "Last year more than 300,000 Australians shopped and sold at more than 15,000 garage sales across the country, diverting more than 3 million kgs of goods from landfill and maximising the energy and resources used in their production."
When it comes to how Aussies want to buy second-hand, it looks like the future of the circular economy may be cash-free. Three-in-five Australians (57%) say they're already virtually cashless, using hard currency for just 10% of all transactions, and 14% have stopped using cash altogether. For garage sales specifically, about 1-in-5 (16%) say they'd be more likely to make a purchase if cashless payments were available, and this rises to more than a quarter (26%) of Gen Z.Two-in-five (40%) say QR codes, like those used for PayPal's cashless in-person payments, are easy to use, and a quarter (26%) say they feel safer buying second-hand if PayPal is a payment option.
Garage Sale Trail sellers and shoppers with a PayPal account can make and accept touch free QR code payments. No special equipment or payment is needed, but a smartphone and the PayPal app.

"We know that any friction in the payment process can lose customers, whether that's caused by too many clicks in a checkout flow online, or by not accepting cashless payments," said PayPal's head of Customer Success Management, Alison O'Brien. "With nothing but a PayPal account and the app, sellers can make sure a shopper can still pay with their PayPal app if they forgot their wallet or didn't have the right change."
Key Facts:
43% have bought something second-hand over the past year.
27% say second-hand purchases have helped them face financial pressures.
49% have things they could sell around the house, worth and average of $1,681.
57% use cash for less than 10% of all transactions.
About us:
ABOUT GARAGE SALE TRAIL
Garage Sale Trail is a not-for-profit social enterprise founded by Sydney mates, Darryl Nichols and Andrew Valder. It seeks to educate Australians on the importance of reuse, and the need to take individual responsibility for the impact of our consumption habits whilst also building stronger, more connected and more resilient communities.
Now into its teenage years, Garage Sale Trail has grown from a grass roots idea in Bondi Beach where it started in 2010 to being powered by over 80 councils nationally and supported by PayPal, the NSW Environment Protection Authority, Queensland Government & Sustainability Victoria.
ABOUT PAYPAL
PayPal has remained at the forefront of the digital payment revolution for more than 20 years. By leveraging technology to make financial services and commerce more convenient, affordable, and secure, the PayPal platform is empowering more than 400 million consumers and merchants in more than 200 markets to join and thrive in the global economy. For more information, visit https://www.paypal.com.
About the Research – 2023 PayPal Garage Sale Trail Research Report
The research was produced by PayPal Australia, based on an online study conducted by Fifth Quadrant with n=1005 sample size. The consumer research consisted of a sample audience of Australians aged 18-75, and was weighted by age, gender and location to ensure data was nationally representative. Quotas and samples were set on turnover and location. The research was fielded in September 2023.
Contact details:
georgiana.kelleher@edelman.com