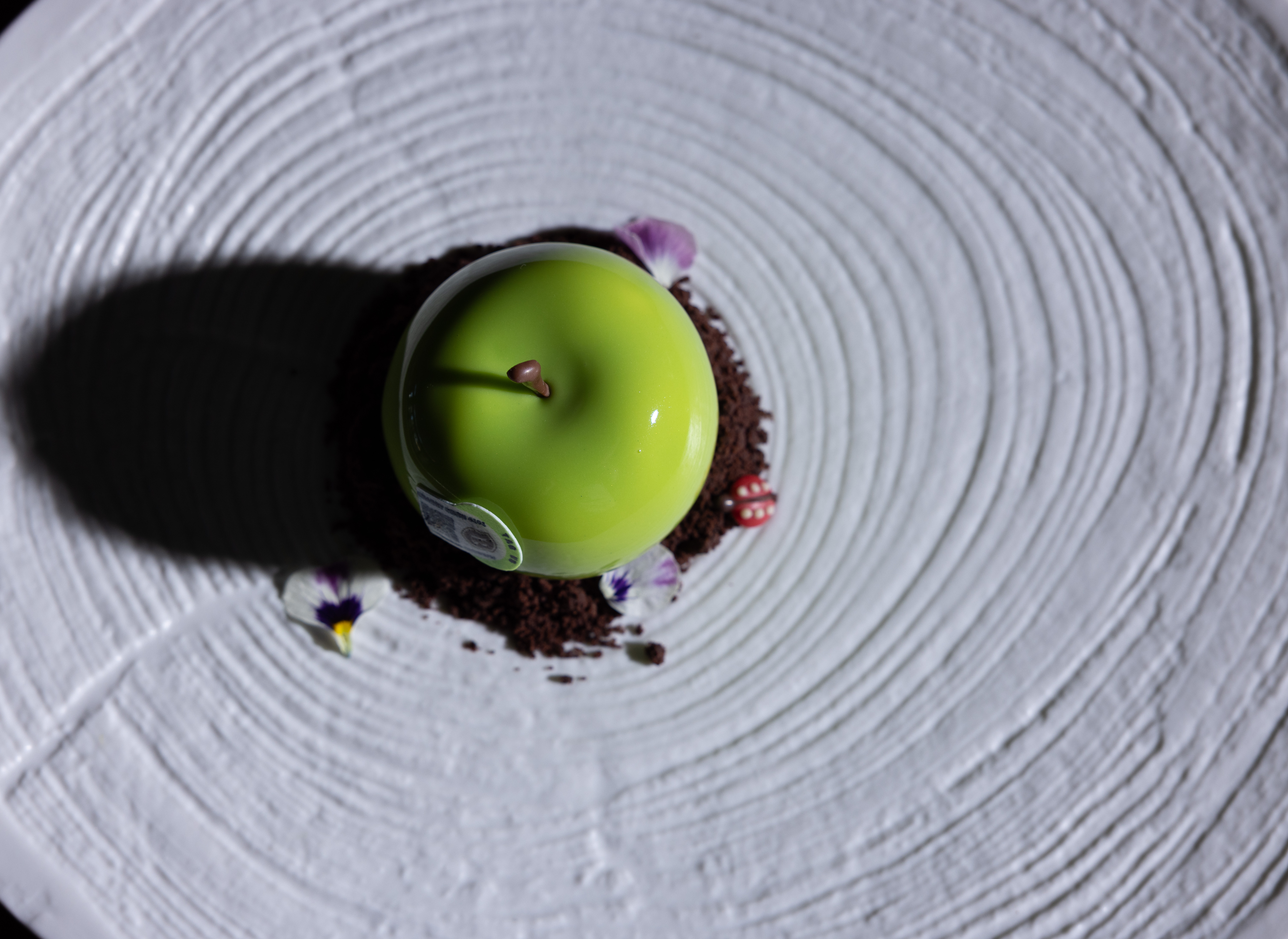 The magnificent seven dishes to try right now at Bacchus (plus an eye defying dessert!)
He's Italian and fiercely proud of it, and the diners at Brisbane's Bacchus Restaurant are loving it! Bacchus Chef de Cuisine Manuele Erriu is the passion behind the restaurant's
Early Summer Menu, dishes a reflection of places he calls home, with a modern twist.
In the menu Chef Manu pays tribute to his birthplace by the sea in Roseto degli Abruzzi, Italy with a range of dishes, and he champions the place he has called home for 10 years, with a kangaroo tartare and a range of Australian flavours. There's also an eye-defying dessert that promises to keep the doctor away 🍏 The magnificent must-try early Summer dishes at Bacchus are:
Agnolotti peas, squid, mussels, ginger (the handmade ravioli pasta is filled with peas, mint and cream). This dish is served with pea textures - pea pods, pea puree, pea dust and pea shoots, as well as local squid, mussels, mussels and potato cream, squid ink and ginger 🧑🏽‍🍳
A little about this dish from Chef Manuele Erriu: "Peas, cuttlefish and mussels are very popular in Italy during summer. In Italy we cook the cuttlefish stew for few hours, before adding peas, and serving. Here, we have swapped cuttlefish for squid and blended the mussels with potato with the idea being to bring classic flavours from home, and adapting it in a modern way."
Parmigiana eggplant, tomato, grana Padano and basil. The eggplant is baked twice with soy sauce, while the parmesan is blended with vegetable stock, then poured over the eggplant with tomato puree, basil oil and finished with parmesan crumbs 🤌🏽
From Chef Manuele Erriu: "Parmigiana is a classic dish from Southern Italy. Traditionally we slice the eggplant and deep fry, and then build the parmigiana like a lasagna by adding parmesan, tomato and basil to each layer. We have taken a modern approach here, so we bake the eggplant whole without salt, and then press to give shape and extract the jus. We then cover the pressed eggplant with parmesan cream, tomato puree and basil oil."
Kangaroo tartare, native herbs, mustard seed and cured yolk 👌🏽
From Chef Manuele Erriu: "Here we have created a classic tartare with Australian native herbs and finger limes. The farmed kangaroo comes from Longreach, a fresh egg yolk is swapped for a cured egg yolk and the seasoning is saltbush mayonnaise, mustard, chives and capers. The dish is finished with grated cured yolk, samphire and finger lime."
The remaining four standout dishes include:
Kingfish, sheep yoghurt, cucumber, dill and hongarebushi
Risotto, herb pesto, goats cheese, Szechuan pepper and lime
Duck parsnip, kale, Davidson plum and juniper jus
And a knockout dessert that defies the eyes, The Granny Smith Apple, feat. vanilla mouse, apple gel & yuzu
The Early Summer Menu includes a full a la carte offering, two degustation experiences (main and vegetarian options), and a wonderful bar selection. Bacchus has paired the menu with an award-winning wine list featuring 700 offerings and over 50 wines 'by the glass'. The list celebrates the great grape growing regions of Queensland, Australia, and the world and the Bacchus cheese trolley remains one of the best in the country.
Back to Manuele. He has a deep love of food and local produce. He started working in the kitchen of a local Italian restaurant when he was 15 during the summer and on weekends. It's where he fell in love with food. He said he still remembers his first oyster as a joyous moment. He's since worked in London and back in Italy, and then came to Australia. He joined Bacchus under the mentorship of Massimo Speroni, and followed him to Newcastle to open JANA Restaurant at the QT HOTEL (sister to Bacchus), before returning to his beloved Brisbane, and now, takes the culinary lead.
And what are his must-haves in his fridge? Extra virgin olive oil, garlic, tomato, burrata!
Bacchus is at home in Rydges South Bank, the premier lifestyle and cultural hotel in Brisbane and one truly embedded in the cultural, dining, sporting and corporate life of the city.
BACCHUS RESTAURANT
9 Glenelg Street, South Brisbane - at Level 1 Rydges South Bank
BOOKINGS: Reservations — Bacchus Restaurant (bacchussouthbank.com.au) or call 07 3364 0837
For media interviews, imagery and more, please contact Kath Rose on kath@kathrose.com or 0416 291 493