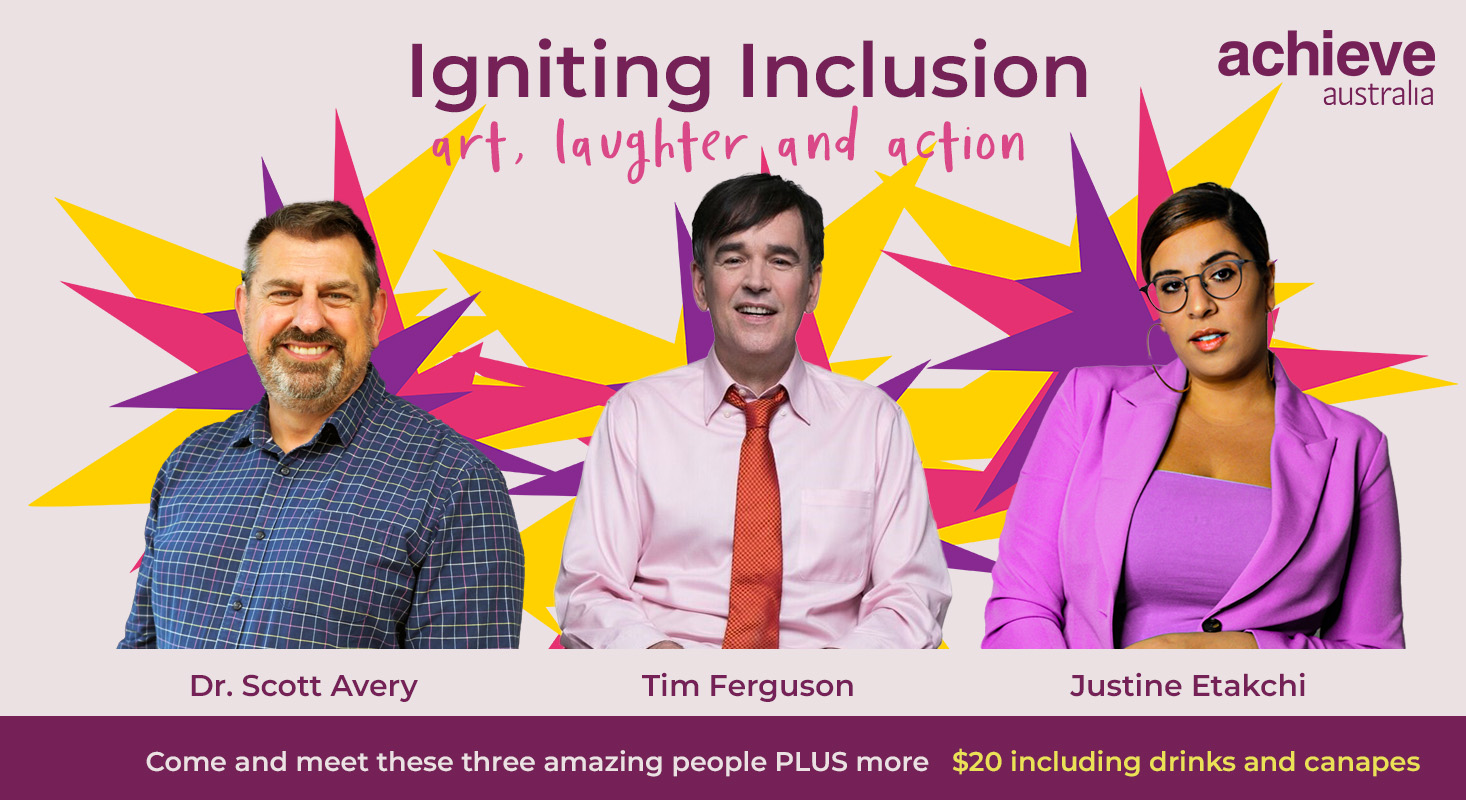 Winners of the national Artful Art Prize will exhibit their work and some are attending the event

Emerging artists of all ages and abilities to exhibit their national Artful Art Prize winning pieces

Igniting Inclusion highlights diverse talent from Artful Art Prize winners
Igniting Inclusion is an evening to celebrate social inclusion for all through creativity, comedy, and a change conversation and everyone's invited.
Tickets are only $20 to attend the event on Monday 4 December from 6pm to 8pm at CommBank Stadium in Parramatta.
Art from a community of creatives of all abilities
Artworks from the inaugural Artful Art Prize will be on display with some available for sale. Some of the artists will also be attending to represent their work and enjoy the evening. All proceeds from sales go 100% to the artist.
The Artful Art Prize launched this year attracting some 640 submissions across the 6 categories – painting, drawing, 3-D, photography, mixed media, and textiles.
Comedian, film maker and artist Tim Ferguson
Tim's performance at Igniting Inclusion is called, 'The Rules of Disability in Modern Australia'. Tim uses his whip-smart mind and comedic mastery to share his take on navigating life from a wheelchair with Multiple Sclerosis.
"A good way to get serious about disability is to first find the humour in it!" Tim says. "Like magic, this show treads on toes and breaks rules without getting out of it….wheelchair!"
Tim Ferguson is an Ambassador for Artful and is impressed by the outstanding quality of the art.
"I've been blown away by the talent. I don't know of any other art competition that welcomes submissions from everyone regardless of age, where they live, or their previous art ability - so Artful presents an opportunity to unite the community through art," he says.
"As an artist myself, I am the proud Ambassador for Artful. I am looking forward to the event on December 4 where I will get to see some of the artwork submitted up close and meet some of the amazingly talented artists," he says.
Award-winning singer/song-writer Justine Eltakchi
Justine is the song-writer behind "Proud", which came 2nd at Eurovision Australia 2020. Her songs made the iTunes Top 10 and the ARIA Album Charts.
Born legally blind, Justine is a disability advocate and APRA AMCOS ambassador.
Justine will perform on the night and her voice and powerful performance will be something to remember.
A discussion about increasing employment opportunities for people with disability
Those attending the event will also hear a lively discussion led by The Achieve Foundation's Executive Director Dr Kirsty Nowlan.
The Achieve Foundation's exciting and innovative project, the Disability Employment Catalyst, aims to deliver 600 jobs in open employment for people with disability in the next 2 years. Leading disability service providers, Achieve Australia, Life Without Barriers, and Yooralla are the employers taking part.
Joining Kirsty in conversation will be disability sector advocates Clare Gibellini and Jeff Smith.
"The Disability Employment Catalyst is an exciting new initiative that aims to accelerate the employment of people with disability," Kirsty says.
"As leaders in the disability movement, Clare and Jeff will talk with me about the need for change and the opportunity to demonstrate that employing people with disability leads to better outcomes for organisations including for their staff and the clients."
Your host for the evening
Long-time disability inclusion advocate and Achieve Australia CEO Jo-Anne Hewitt is your host for the evening and Achieve Board member and Aboriginal scholar, Dr Scott Avery will deliver the Welcome to Country.
"Igniting Inclusion gives us the chance to celebrate International Day of People with Disability by highlighting 2 of the great initiatives we support that are making a difference – Artful and the Disability Employment Catalyst," Jo-Anne says.
"The Disability Employment Catalyst is a game-changer and will demonstrate how collaboration within the disability services sector will yield real outcomes for people with disability," she says.
"The Artful Art Prize exhibition is a great example of what happens when we include everyone in our community and unite to share our voices. I've no doubt Tim Ferguson will have us thinking and laughing with his newest show."
"And I am also thrilled to have the opportunity to hear Justine Eltakchi perform live. It is going to be an incredible evening and I do hope you can join us."
How to buy tickets for only $20
Tickets are available to purchase for $20 on Eventbrite. Drinks and canapes are included.
Artful Art Prize winners, runners up and highly commended (national)
Jo-Anne Hewitt, Chief Executive, Achieve Australia
Kirsy Nowlan, Executive Director, The Achieve Foundation
About us:
About Achieve Australia - Achieve Australia is a non-profit organisation dedicated to supporting individuals with disabilities, ensuring they lead extraordinary and fulfilling lives. Established in 1952, Achieve offers a range of services including accommodation, employment support, and community engagement. Through their people-centred approach, they strive to empower individuals, fostering independence and inclusion within the broader community. With the focus on respect, dignity and quality care, Achieve Australia plays a vital role in enhancing the lives of people with disabilities and promoting a more inclusive society. Learn more about Achieve Australia here.
About The Achieve Foundation-The Achieve Foundation, founded in 2021, aims to enhance disability philanthropy, supporting research and innovation by breaking down barriers for inclusion in the lives of people with disabilities. Their primary focus lies in providing housing support for those with complex disabilities and shifting community attitudes towards people with disabilities. Learn more about their amazing work here.
Contact details:
Cristina Barancik, Marketing & Communications Partner at Achieve Australia, 0493 020 069, cbarancik@achieveaustralia.org.au