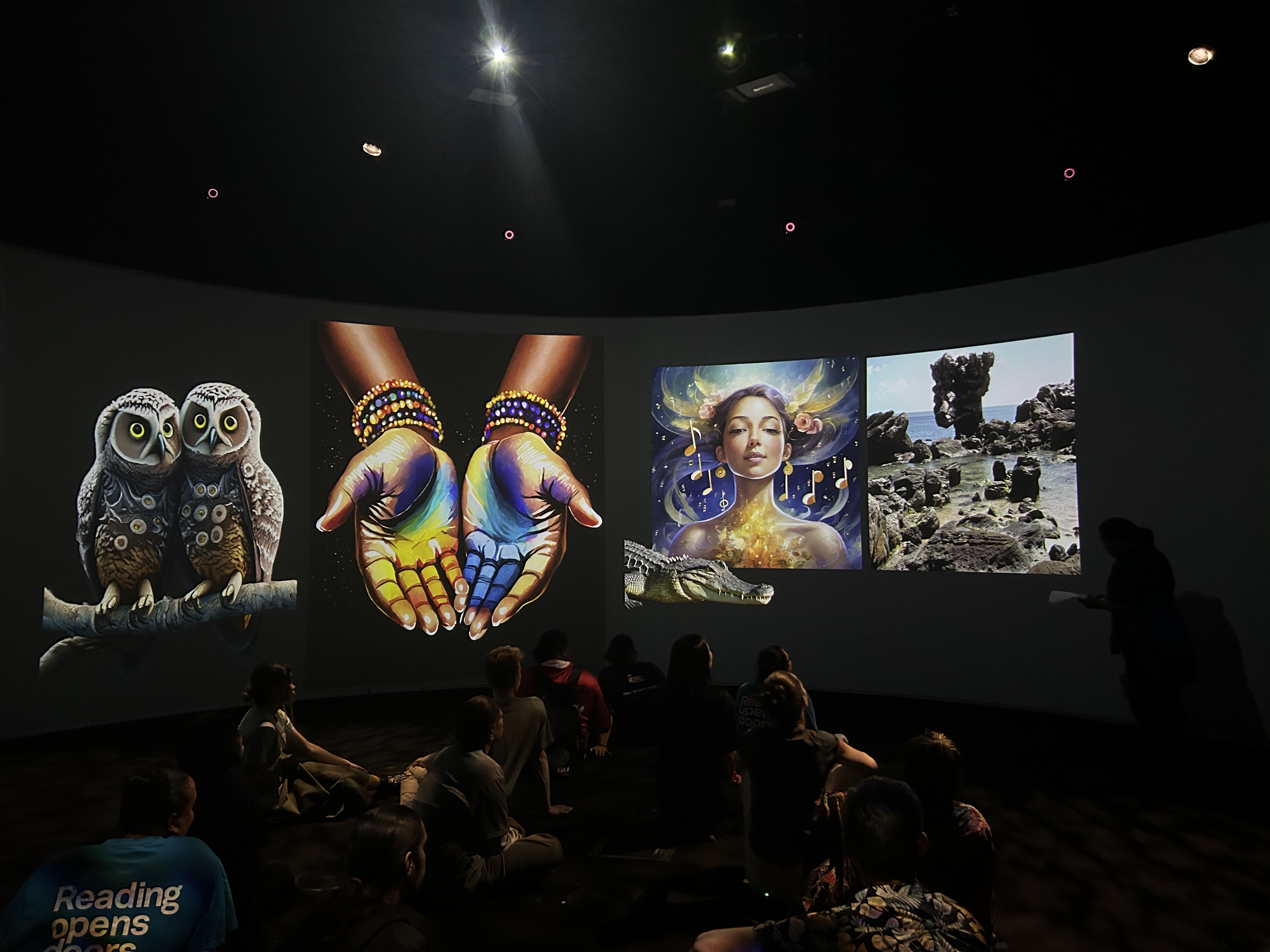 Indigenous youth from remote Northern Territory and Western Australia have taken part in an innovative five-day Pamela Lofts Bequest workshop in Sydney with the Indigenous Literacy Foundation (ILF) to explore their interest in digital technology,digital art and storytelling.
In collaboration with DXC Technology and Adobe ANZ, the ILF's Pamela Lofts workshop provides a mentorship program and these organisations have contributed time, resources, laptops and Adobe Creative Cloud Licences to teach the young participants how to create digital pieces of art.
ILF Programs Manager, Tictac Moore, understands the important opportunity that the Pamela Lofts program provides, and the generosity of DXC Technology and Adobe ANZ.
"This collaboration has provided the group with an opportunity to explore digital ways of storytelling. This is important because it can lead to career pathways to help not only these first Nations Youth but also their Communities. It's been amazing to see them work so passionately towards a project that they presented at the end of the week, using skills that they've been taught over the five days," says Tictac.
"DXC Technology is delighted to support the Indigenous Literacy Foundation with this event as part of our commitment to reconciliation, and increasing access to technology and digital literacy for Communities," says Stuart Meadley, DXC Digital Futures and First Nations Project Lead, DXC Technology Asia Pacific.
"The potential to support ILF in its vision to support digital literacy has been an exciting and rewarding opportunity for Adobe. Our mission to achieve Creativity For All, underscores the belief that everyone is creative and has the right to tell their story. We believe that through our technology, people and purpose, we can join organisations like the ILF in driving meaningful change across many Communities throughout Australia," said Florisa Anolin, Diversity, Equity and Inclusion Program Lead, APAC and Japan.
About The Pamela Lofts Bequest Program. Pamela Lofts (1949-2012) was a nationally renowned artist and a much loved children's books illustrator. She left behind an enormous legacy and a substantial bequest to the ILF, which allowed the launch of the Pamela Lofts Bequest for Literacy and Learning Program in 2012. This program allows a mentorship program for Indigenous people in remote Communities in Northern Territory and Western Australia.
About us:
The Indigenous Literacy Foundation (ILF) is a national charity of the Australian Book Industry, working with Aboriginal and Torres Strait Islander remote Communities across Australia. They are Community-led, responding to requests from remote Communities for culturally relevant books, including early learning board books, resources, and programs to support Communities to create and publish their stories in languages of their choice. For more information please visit www.ilf.org.au
About DXC Technology DXC Technology (NYSE: DXC) helps global companies run their mission-critical systems and operations while modernising IT, optimising data architectures, and ensuring security and scalability across public, private and hybrid clouds. The world's largest companies and public sector organisations trust DXC to deploy services to drive new levels of performance, competitiveness, and customer experience across their IT estates. Learn more about how they deliver excellence for their customers and colleagues at https://dxc.com/us/en
Adobe is changing the world through digital experiences. For more information, visit www.adobe.com
Contact details:
Jackie Evans, ILF Publicist 0407 776 222