A sense of safety in the places we live, work and play is an essential human right yet often this is denied on the basis of gender. Launching on 15 November 2023, YourGround NSW's crowdmap will capture how gender intersects with diverse factors such as location, time of day, environment, lighting, busyness, or past experiences.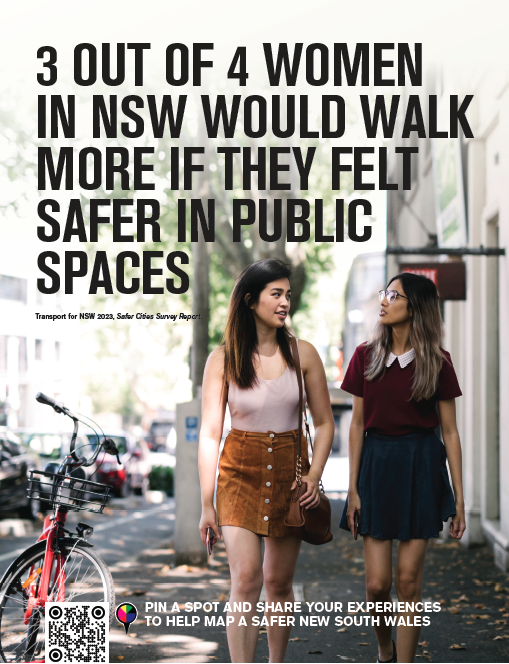 The 2023 NSW Safer Cities Survey found 59% of women surveyed feel unsafe most or all of the time in public spaces after dark, compared to 32% of men. Importantly, if women felt safer, 76% of survey respondents would walk more and 69% would catch public transport more often.
Open for three months, YourGround NSW is an interactive, crowd-sourced map asking women and gender diverse people to pin a spot and share their experiences about safety across NSW – experiences that together can help create more inclusive public spaces and transport hubs.
Led by Monash University's XYX Lab and digital consultancy CrowdSpot, YourGround NSW has been developed in partnership with the NSW Women's Safety Commissioner, the Department of Communities and Justice, and Transport for NSW, as part of the Safer Cities program.
Once submissions close in February 2024, researchers from XYX Lab will collate and analyse the data submitted to provide meaningful insights and a report into how we can make our cities, our towns and community spaces more accessible, inclusive and equitable.
The program is part of the NSW Government's commitment to helping make cities and towns across NSW safer and more equitable for everyone. YourGround NSW is based on YourGround Victoria, a state-wide project with 25 local and state government partners, which received close to 6,000 submissions between April and July 2021. Submissions to YourGround Victoria included:
"As a female runner I feel uncomfortable running early morning or in the evening as the lighting is shocking. Really well looked after trail but missing this key safety feature. I have to change when I run to ensure there is daylight."
"This shared path is great during the day but as a pedestrian at night it is scary as the lighting is so bright along the path, you can't see any other parts of the park and therefore can't see people from a distance."
Dr Hannah Tonkin, inaugural NSW Women's Safety Commissioner, says:
"Everyone has a right to feel safe and welcome on our streets, parks, paths and beaches, yet almost 2 in 3 women say they do not feel safe at night in NSW. Feeling unsafe can limit people's ability to access education, employment and services, and to engage fully in their communities.

By hearing directly from women and gender diverse people as they move around their cities, towns and regions, YourGround NSW will amplify their voices, help us understand their experiences, and provide important data and evidence for NSW policymakers into the future."

NSW Minister for Transport, Jo Haylen MP says:

"Our Government is committed to making public spaces and transport hubs in NSW safer and easier to access for everyone. In July 2023, we released the Safer Cities Survey Report, which was the first step towards better understanding how people perceive how safe they feel in our public spaces.

"YourGround NSW will allow us to gather additional place-based data, insights and stories about how people all over the state feel in their cities and towns.

"This is a complex issue that has real impacts on the lives of so many women across the state. It is a priority for us to ensure that everyone feels heard, feels safe and feels welcome in our public spaces.
The stories and information gathered through this program will help chart a path toward creating exciting and interesting public spaces in our cities and towns."


NSW Minister for Women, Jodie Harrison MP says:

"Women and gender diverse people tend to feel less safe in public and that perception can often impact their movements and opportunities to participate in the community. That feeling of not being safe may cause them to change their behaviour, such as avoiding using public transport or certain spaces altogether.

"The NSW Government is pleased to be supporting the YourGround initiative to help identify how we can make our cities, towns, transport and community spaces more accessible for women, girls and gender diverse people. I look forward to seeing the results of the program which will help make our spaces mores accessible and inclusive."


Dr Nicole Kalms, founding director at the Monash University XYX Lab, says:
"As designers, architects, urban planners, policymakers, even equity experts, we can't make assumptions about what women and gender diverse people experience. XYX Lab works from lived, sometimes hidden, experiences to really make an impact.

"As a grassroots, crowdsourcing tool YourGround uncovers experiences that restrict access and inclusion in public space. YourGround Vic received over 6000 submissions in 2021 and we're looking forward to finding out about the everyday experiences of women and gender-diverse people all across NSW that can provide important insights to those making key decisions in the future."
Key Facts:
AVAILABLE FOR INTERVIEW

Dr Hannah Tonkin – NSW Women's Safety Commissioner
Dr Nicole Kalms – Director, XYX Lab, Monash University

FURTHER INFORMATION

Images and video assets for launch will be available here.
About us:
ABOUT XYX LAB
Monash University XYX Lab is a team of interdisciplinary researchers whose work operates at the intersection of gender, identity, urban space and advocacy. Their research brings together planners, policymakers, local government and stakeholders to make the experiences of underrepresented communities in urban space and planning tangible.

ABOUT CROWDSPOT
CrowdSpot is an award-winning digital consultancy specialising in map-based community engagement and data collection. Their mission is to help create quality spaces in a social, inclusive and engaging process. They do this by connecting decision-makers with targeted community groups through the use of online map-based social survey tools.

ABOUT THE WOMEN'S SAFETY COMMISSIONER
The inaugural Women's Safety Commissioner for New South Wales is Dr Hannah Tonkin. The NSW Women's Safety Commissioner provides leadership and oversight across the whole of NSW Government in relation to domestic, family and sexual violence, as well as advice and support on cross-sector initiatives to improve women's safety.
Prior to commencing as the NSW Women's Safety Commissioner, Dr Tonkin was a barrister at Hanson Chambers in Adelaide and Garden Court Chambers in London. She previously worked as an international human rights lawyer at the United Nations and as Director of Disability Rights at the Australian Human Rights Commission. She was also a lecturer in international law at the University of Oxford and University of Adelaide, and Co-Chair of the Women and Girls Rights Subcommittee of the Australian Lawyers for Human Rights.

ABOUT THE SAFER CITIES PROGRAM
The NSW Government is investing $30 million over two years to help improve perceptions of safety in cities and towns, particularly for women, girls and gender diverse people as they walk or cycle to, through and within public spaces and public transport hubs through the Safer Cities program. The program is led by Transport for NSW.
Contact details:
MEDIA ENQUIRIES

For media enquiries and interview requests, please contact:
Anna Lensky on anna@pitchprojects.com or 0425 766 780
Bec Bridges on bec@pitchprojects.com or 0405 655 245

Download the media release in full here.