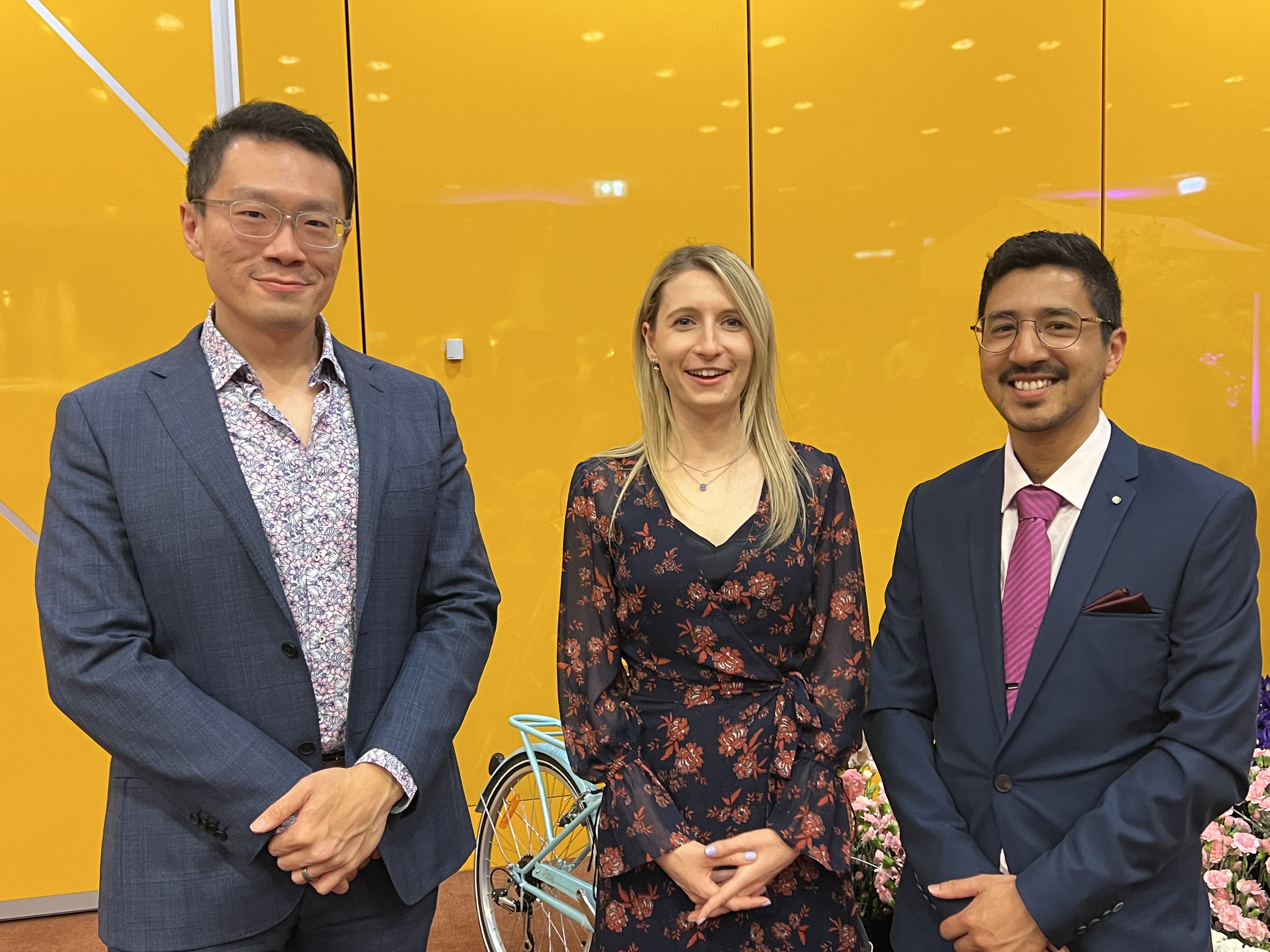 The Leukaemia Foundation and Haematology Society of Australia and New Zealand (HSANZ) have again partnered to award three of Australia's brightest blood cancer researchers and clinicians with PhD scholarships.
The 2023 recipients were announced last night at the annual Blood conference in Melbourne and include Dr Helen Cashman, Dr Eric Wenlong Li and Damien D'Silva, whose respective research projects will aim to improve the lives and outcomes of Australians living with blood cancer.
Leukaemia Foundation CEO Chris Tanti said that the Leukaemia Foundation HSANZ PhD Scholarships are a critical component of the Leukaemia Foundation's National Research Program, with the new scholars joining a prestigious list of previous recipients spanning six years.
"The Leukaemia Foundation is thrilled to partner with HSANZ on these PhD scholarships which continue to mark one of our most important research announcements each year," said Mr Tanti.
"We extend our congratulations to Dr Cashman, Dr Wenlong Li, and Mr D'Silva who will each receive $150,000 to undertake some of this country's most innovative and cutting-edge blood cancer research projects as a result of the funding we're jointly able to provide."
According to the Leukaemia Foundation, funding local blood cancer research is a crucial to reducing the devastating burden of blood cancer in Australia with incidence of the disease soaring 47% in the past ten years.
"Every day, 53 Australians will be newly diagnosed with blood cancer and a further 16 will sadly lose their life to the disease with blood cancer remaining one of the nation's deadliest cancers.
"Research projects like those of the PhD scholarship recipients are fundamental to improving the survival rates of Australians diagnosed with blood cancer and accelerating research to realise advancements in blood cancer treatment."
The ongoing partnership between the Leukaemia Foundation and HSANZ ensures that the research conducted is of a high quality and that Australia's most promising blood cancer researchers and clinicians have an opportunity to make impactful discoveries that transform the health and survival outcomes for blood cancer patients.
"Investment into blood cancer research is a key pillar of our work at the Leukaemia Foundation and to date we have funded over 60 million dollars of research. By partnering with HSANZ who share our goals, the depth of research that's funded increases exponentially.
"If we are to have any hope of reducing blood cancer mortality, it's paramount we continue to invest in local blood cancer research projects and continue to be the biggest supporters of Australia's next generation of researchers and clinicians, so together we can find better treatments and one day a cure."
The PhD scholarship recipients research projects will assist in paving the way towards the Leukaemia Foundations goal of zero lives lost to blood cancer by 2035, and additionally strongly align to HSANZ's purpose to lead, communicate, and support excellence in haematology through independent education, professional development, and advocacy.
Information on the Leukaemia Foundation HSANZ PhD Scholarship recipients and their respective research projects below:
Dr Helen Cashman – Understanding why some Lymphomas are resistant to CAR-T therapy
This research project will see Dr Cashman use advanced technologies to study the structure and functions of components of diffuse large B-cell lymphoma (DLBCL) and its associated resistance to CAR-T therapy, to determine why some patients do not achieve durable remission.
DLBCL is the most common type of lymphoma with an estimated 2,000 Australians diagnosed each year. Patients who relapse early or who don't respond to initial treatments often have poor outcomes.
CAR-T therapy immunotherapy is a treatment where the patients own immune 'T cells' are trained to kill lymphoma and has shown great promise in the treatment of DLBCL. However, it is still unsuccessful for more than half of patients with the causes of treatment failure unknown.
Dr Cashman's research will aim to hasten the development of novel strategies and more effective CAR-T therapies for DLBCL and provide a path of hope for ongoing remission for those patients who experience treatment failure.
Dr Eric Wenlong Li – Improving treatment of blood cancers using targeted therapies
Dr Wenlong Li's research project is centred around Venetoclax, an oral anticancer drug that is highly effective and a standard treatment for numerous blood cancers including Acute Myeloid Leukaemia (AML) and Chronic Lymphocytic Leukaemia (CLL).
Venetoclax has resulted in many blood cancer patients experiencing longer periods of remission, however for others, they inevitably relapse with little hope of a cure.
Current evidence points to sophisticated genetic and epigenetic mechanisms cancer cells use to become resistant to Venetoclax. Dr Wenlong Li's research aims to discover these mechanisms using new and advanced treatments to find the common factors driving Venetoclax resistance, and to understand which patients will relapse to identify ways to overcome drug resistance.
This exciting research project will change the management of blood cancer on several fronts including helping other scientists to use the evidence as a roadmap for future discoveries, and assist in providing new prognostic tools that can be utilised throughout a patient's journey. It will also help to determine optimal Venetoclax treatment dosage for each patient.
Damien D'Silva – Advancing the effective use of targeted therapies for blood cancers while reducing side effects
Mr D'Silva and his research team will investigate the unique functions of the MCL-1 gene using novel research methods to support the development, progression, and therapy options for blood cancers.
The MCL-1 gene is abnormally active in around 10% of cancers leading to the survival of cancer cells despite treatment with anticancer drugs. Effective treatments such as MCL-1 inhibitors are being trialled for blood cancers however concerning side effects remain and are yet to be overcome.
Mr D'Silva's research will aim to improve the understanding of minimising the toxicities and side effects associated with MCL-1 inhibitors and ultimately lead to an enhanced understanding of the MCL-1 genes function with blood cancers.
Furthermore, it will determine how therapies such as the MCL-1 inhibitors can be effectively used to treat blood cancers with minimal side effects, and it's also likely to help with treatment of non-blood cancers.
Learn more about how the Leukaemia Foundation research is helping to save lives at leukaemia.org.au/research. For media enquiries please email media@leukaemia.org.au.
- END –
Available for interview: Chris Tanti, CEO, Leukaemia Foundation: With an extensive background in the health sector, Chris joined the Leukaemia Foundation in February 2021 and brings a wealth of knowledge to the organisation. Chris began his career in social work and in clinical settings as a psychotherapist working across acute and public mental health before transitioning into management some 25 years ago. He has since held national and international senior executive positions including CEO of Australia's National Disability Services and leading mental health organisation, Headspace. Chris is located in Melbourne and available for interviews via phone or online video platforms.
About us:
About the Leukaemia Foundation: The Leukaemia Foundation stands with Australia to help cure and conquer blood cancer – with care. Together we are attacking every blood cancer, from every direction, in every way we can. We stand beside every Australian to be their voice and their someone-to-turn to, fighting to get them access to the best care. We also accelerate research that is delivering rapid advancements in blood cancer diagnosis and treatments. Plus, we provide services and support that empower people living with any blood cancer to live well after diagnosis. You can learn more about the Leukaemia Foundation and blood cancer at leukaemia.org.au
Contact details:
For media enquiries please email media@leukaemia.org.au.