People on low incomes and income support have been priced out of Canberra as prohibitive housing costs punish the city's most vulnerable, the latest National Shelter-SGS Economics and Planning Rental Affordability Index (RAI) shows.
Overall June quarter 2023 rents remain on the border of the acceptable affordability threshold for the average Canberra household on a yearly gross income of $126,248, the highest in the country. But this leaves every ACT suburb either unaffordable or severely unaffordable for students in share houses. The entire territory is also severely to extremely unaffordable for single and coupled pensioners.
It is even worse for people on JobSeeker. A one bedroom apartment is extremely unaffordable for a single person relying on income support, who would need to spend 112% of income to rent, as well as a single parent on benefits who works part time and faces paying 66% of income on a two bedroom property.
The ACT's rental affordability rose marginally (3%) between the June quarters of 2022 and 2023, putting it on par with 2019 affordability levels. It is now Australia's second-most affordable capital, driven mainly by the sharp decline in other cities, with an RAI of 125. This is up from 121 last year when rental affordability fell to its lowest level since 2013.
Every suburb in central Canberra is moderately unaffordable to the average household, while areas near Tuggeranong in the south and Gungahlin in the north have returned to acceptable levels.
"While the Index has consistently shown people on JobSeeker have been pushed to the margins and into poverty in the ACT since its first release, the brutal home truth this RAI tells us is every Canberran household with an income of less than $1000 a week has been priced out of the option of a second bedroom by our private rental market," Travis Gilbert, CEO ACT Shelter said.
"There is an urgent need for public investment to remedy market failure."
SGS Economics Principal, Ellen Witte, said strong reform was needed.
"This downward spiral has now reached the point where very few affordable long-term rentals are on offer. We need to attack this problem from multiple angles. This means rapidly expanding social and affordable housing, rethinking how we use tax subsidies and strengthening renters' rights."
ACT, JUNE QUARTER, 2023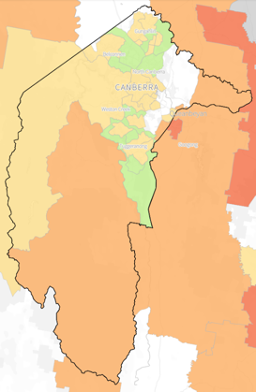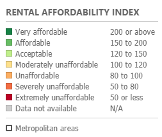 Household Affordability Percentage of rent RAI score
| | | | |
| --- | --- | --- | --- |
| Single people on Jobseeker | Extremely unaffordable | 112 per cent | 27 |
| Single part time worker parent on benefits | Extremely unaffordable | 66 per cent | 45 |
| Single pensioner | Extremely unaffordable | 67 per cent | 45 |
| Hospitality worker | Severely unaffordable | 41 per cent | 73 |
| Student sharehouse (renting three bedroom home) | Severely unaffordable | 39 per cent | 78 |
EDITOR'S NOTE:The rental affordability index scores areas based on median rental prices and average income of rental households within the capital city or rest of state area'. A score of 100 indicates households spend 30 per cent of income on rent, the critical threshold level for housing stress. A lower score is worse.
A score of 50 or less indicates extremely unaffordable rents, 51-80 indicates severely unaffordable rents, 81-100 indicates unaffordable rents, 101-120 indicates moderately unaffordable rents, 121-150 indicates acceptable rents, 150 or more indicates affordable rents.
Media contact:
Georgie Moore 0477 779 928