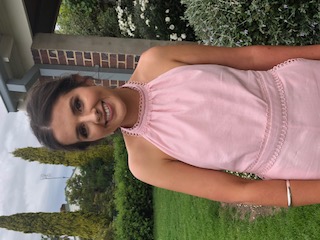 21-year-old Grace Corkhill has found a new lease on life after being assessed and treated in a New South Wales-first tertiary clinical program for her diagnosis of functional neurological disorder, known as FND.
Grace, who lives in regional New South Wales, had a cerebral artery aneurysmal rupture in 2013 which caused a stroke. She was then diagnosed with epilepsy and developed FND in part related to the original trauma of her significant health issues.
She said the disorder had manifested in intermittent, involuntary attacks of shakes in her limbs and body, which left her housebound and terrified.
"I struggled significantly with the fact that I couldn't pinpoint a trigger to the shakes," she said. "I became very anxious about it happening in public.
"Pretty soon I stopped work and just stayed home, which in turn impacted my mental health," said Grace.
Dr Adith Mohan, a neuropsychiatrist and Head of the Mindgardens FND Clinic at Prince of Wales Hospital in Sydney, said that "its success thus far has been extraordinary, with most patients treated through the Clinic showing clinical and functional benefit".
The Clinic brings together specialists from different disciplines, including neurology, rehabilitation medicine, physiotherapy, occupational therapy and psychology, to develop individual programs that respond to patients' own treatment priorities for FND - a disabling condition that develops due to a presumed 'disconnect' in signalling between the brain and the rest of the body.
FND can manifest with a variety of neurological symptoms that include seizure-like attacks, weakness, sensory disturbances, tremor, brain fog and issues with speech, walking and vision. It is often accompanied by chronic pain, fatigue and plethora of other distressing symptoms. One Australian study noted that approximately 1 in 6 people who see a neurologist will be diagnosed with FND, with many patients stigmatised for having a condition that is poorly understood.
"The loss of hope in FND patients is common," said Dr Mohan and the significant impact of the condition on patients' wellbeing has been well documented.
"In Grace's situation and in the absence of intervention, her symptoms would likely have become persistent and made living her life more difficult," said Dr Mohan.
"This is true of any FND patient and although finding a cure is far too simplistic a way of looking at the disorder, FND is eminently treatable."
Demand for the Clinic has already exceeded capacity with nearly 100 referrals received over its first year of operation, demonstrating a clear need for the intervention services – especially in rural and regional areas. Furthermore, patients have reported their experiences as overwhelmingly positive, with many commenting on the need for such services across NSW and nationally.
A key component of the one-stop shop Clinic is an additional research component also led by Dr Mohan through UNSW Sydney's Centre for Healthy Brain Ageing (CHeBA), which is addressing the fundamental gap in information and education for patients and their clinicians around FND.
Dr Mohan, also a Research Fellow at CHeBA, said that "what we have built into the clinical service is a robust data collection system which allows us to measure real-world outcomes of the clinic and capture patients' levels of illness and disability.
"Beyond improving the lives of these young patients, we are ultimately going to end up with a high-quality dataset that shows us the distinct needs of FND patients. The research will also inform us of the economic cost of FND on patients and their families, as well as society at large, which has great implications for decision-making by policy makers."
The Clinic is funded by Mindgardens Neuroscience Network, a translational research partnership between South Eastern Sydney Local Health District, the University of NSW, Black Dog Institute and Neuroscience Research Australia (NeuRA). Mindgardens Executive Director, Professor Jackie Curtis, said "The outstanding results of the FND Clinic demonstrate the power of collaboration between clinicians, researchers and people who experience these conditions to transform outcomes for individuals and improve how we offer services."
According to Grace, she did not have high expectations at the start of the 6-week intervention and was surprised to notice genuine improvement every week. "It was clear that everything they had put into place worked."
She is now back at work, has re-engaged socially and is exercising daily.
"I feel back in control of my life because of the treatment I received," said Grace.
Findings from the Mindgardens FND Clinic will be showcased at the RANCZP Section of Neuropsychiatry 2023 Conference
The Mindgardens FND Clinic homepage: https://cheba.unsw.edu.au/research-groups/neuropsychiatry/fnd-clinic
Dr Adith Mohan discusses FND [video]: https://www.mindgardens.org.au/our-impact/story/empathic-support-for-a-complex-condition/
Grace Corkhill speaks about her FND experience: https://www.youtube.com/watch?v=ikKc_hMMNUU&t=5s
About us:
https://cheba.unsw.edu.au/research-groups/neuropsychiatry/fnd-clinic
Contact details:
Dr Adith Mohan available for interview.
Heidi Douglass: h.douglass@unsw.edu.au
0435 579 202