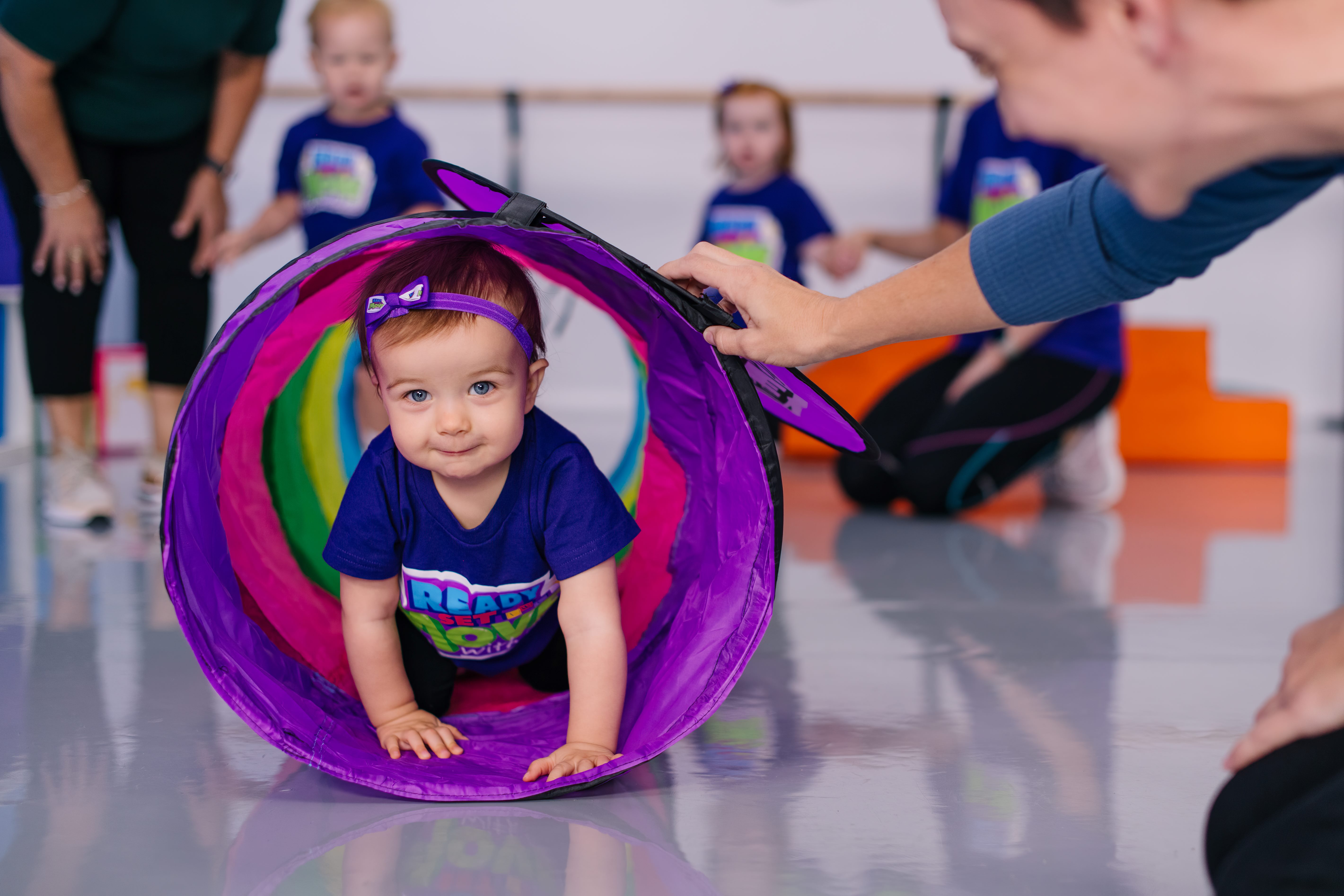 One-third (36%) of parents say they sometimes don't know how to play with their child
50% are not confident that they could help their child to play
Almost two in three parents (61%) often find playing with their child hard or boring
86% of parents say it is hard for them to find time to play with their children
65% of parents believe play was better when they were growing up
Most parents (94%) recognise play is important for a child's health, including physical wellbeing and brain development*
With parents struggling to cope with initiating play with their children, Ready Set Move - a creative movement and music class for toddlers and their grownups- has been rolled out across Australia, with the aim of teaching parents and carers how to play again and to share the benefits with their children.
Early Childhood and Gifted Education Consultant, Dr Cathie Harrison, who consulted on the creation of the program , said more programs like the Ready Set Move classes were needed to help parents to prioritise play with their toddlers, re-learn the joys of play themselves and introduce their children to the developmental benefits of play.
"The results from a Royal Children's Hospital (RCN) National Child Health Poll indicate that many parents have lost the skills of 'play' they had from their childhood and are not confident they can teach their own children how to play," Dr Harrison said. "This is concerning, as research has established that play, particularly in the very early years, contributes to brain development, creates flexibility, enhances creativity, builds resilience to stress and promotes social awareness and how to fit in with others."
Dr Harrison said there were a number of reasons why parents lacked the confidence to play with their child.
"Some parents don't want to appear foolish, they may be fearful of getting play 'wrong' or they may be fearful of their child hurting themselves," she said. "We need to change the way we see play, as it is actually a highly intellectual engagement. What we are doing as parents when we play with our children is exposing them to new experiences and building resilience that they can draw on in difficult times."
She said programs like Ready Set Move provide an opportunity for parents and carers to actively participate in the first years of their child's life and to take the skills they learn in class back to the home environment.
"Parents and carers are able to scaffold new experiences and the participation of their child in the Ready Set Move program so they can support their child to continue playing, learning and practicing the content learned in classes at home," she said. "Parents also observe the teacher modelling pro-social interactions and responsive language and often this is about the tone of voice used and the pace of language and intentional eye contact."
Chief Creative Officer at Ready Set Dance, Belinda Agostino, said the Ready Set Move classes were filling a gap in parents' knowledge about how to support and engage with their children during playtime.
"The Royal Children's Hospital Child Health Poll report identified play as the strongest learning mode throughout early childhood and if parents can prioritise play with their children, the benefits for both child and parent are enormous," Ms Agostino said.
Brent and Ceili Pace from the Gold Coast take their 18 month daughter Elle to Ready Set Move classes and Brent said he understood how some parents may not be confident with free play.
"There are not a lot of activities available for under 3s to do, so the expectation for parents to do everything is quite large. It's hard to find uninterrupted time at home to play but the ready Set Move program is structured play so it is an easy option for families," he said. "It has allowed me as a Dad to establish a really great connection with Elle. We dance and have fun together and its our own special routine. It's made play easy.
Maegan and Sam Lynch also attend classes with their 22-month-old daughter Gypsea and said the classes have had a major impact on their daughter's overall development.
"The classes are helping her learn a range of new music, dance and sensory skills and have improved things like her balance and strength," Ms Lynch said.
"She is so much more confident now and sings the songs at home and often re-enacts what she learns in the classes at home.
Mr Lynch said the classes had given the family the opportunity to connect, bond and make memories together.
"I didn't have that kind of relationship with my father, and I wanted that for Gypsea. The classes are pure joy and the fun the kids are having is infectious and it makes us happy to see her be happy and thriving," he said.
The Ready Set Move program is available Australia wide from over 100 different locations. https://readyset.dance/ready-set-move/
Key Facts:
One-third (36%) of parents say they sometimes don't know how to play with their child
50% are not confident that they could help their child to play
Almost two in three parents (61%) often find playing with their child hard or boring
86% of parents say it is hard for them to find time to play with their children
65% of parents believe play was better when they were growing up
Most parents (94%) recognise play is important for a child's health, including physical wellbeing and brain development*
Contact details:
Trina McColl 0413 922 284