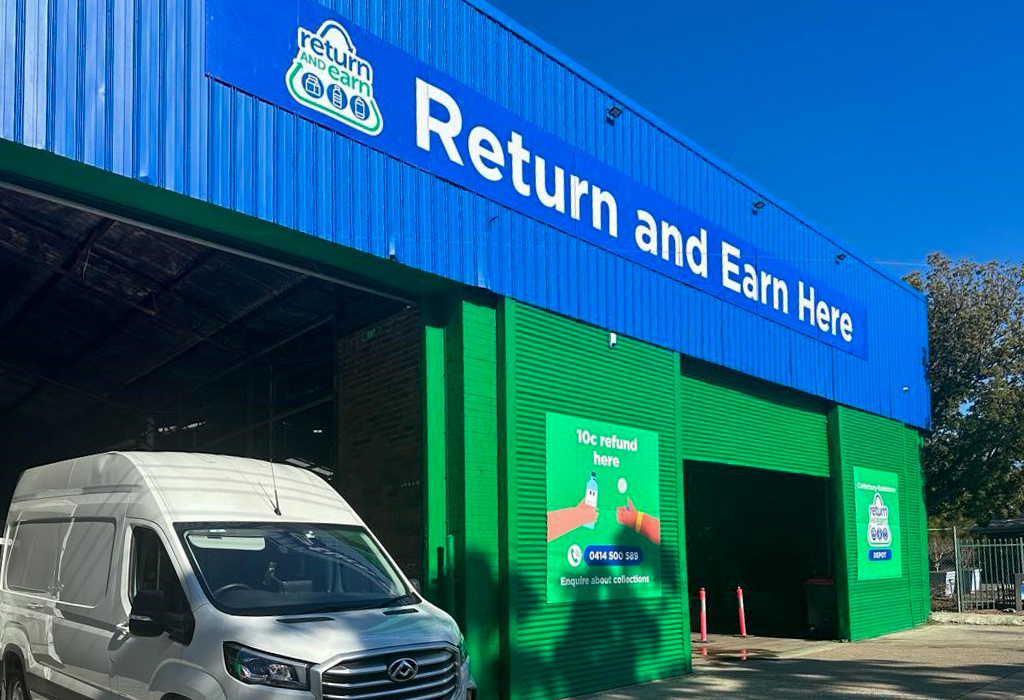 Local small business operator Jack Jardim is going from strength to strength, expanding his local Return and Earn return point business with the opening of the new Canterbury-Bankstown Return and Earn automated depot in Roselands.
The new depot is a large-format facility that provides the community with convenient access to return large quantities of eligible drink containers for the 10c refund.
Jardim initially operated a small over-the-counter return point in Canterbury in 2021 for Return and Earn, later relocating to Yagoona. He initially averaged 8,000 containers collected per week and, thanks to his strong connections with the local community and the introduction of his home and commercial collection services, has grown to over 350,000 containers per week.
While the Canterbury-Bankstown depot accepts any number of containers, its onsite sorting and counting machines make it the ideal choice for individuals or businesses looking to return more than 500 containers at once.
Canterbury-Bankstown residents are enthusiastic users of Return and Earn and have returned more than 440 million containers through the 27 local return points since the scheme began.
The new Canterbury-Bankstown Return and Earn depot offers container collection services for individuals, charities, sporting groups, schools and local businesses. They are proud to support Little Wings as their charity of choice, which provides air transport service for seriously ill children.
Return and Earn recently celebrated the major milestone of 10 billion drink containers returned for recycling through its network of around 620 return points since the scheme began, resulting in more than $1 billion in container refunds back to the community.
The Canterbury Bankstown Return and Earn Depot is located at 37-39 Leslie Street, Roselands and is open from 8am to 5pm Monday to Friday and 8am to 4pm on weekends.
For more information on Return and Earn visit: www.returnandearn.org.au.
QUOTES ATTRIBUTED TO [James Dorney, CEO of TOMRA Cleanaway, network operator for the scheme]
"Having a site where larger volumes of containers can be returned without sorting will be welcomed in this community of enthusiastic recyclers."
"The scheme is delivering tangible environmental, economic and social benefits to the community, with reduced litter, keeping materials in use longer, and more money in people's pockets."
"We are lucky to have passionate return point operators who not only provide access for recycling but are happy to connect with their community and support local groups in their fundraising initiatives."
Contact details:
Evonne McCabe 0438459524