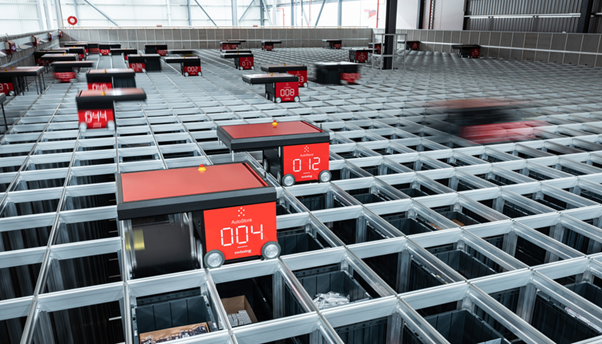 Warehouse and intralogistics automation is often thought of as a highly customised solution that benefits the major players once they have reached a certain scale.
But as technology advances, it is becoming increasingly available and affordable for Small-to-Medium Enterprises (SMEs), which account for 99.8% of businesses (more than 2.5 million) in Australia and 97% (more than 550,000) in New Zealand. (Sources: Australian Bureau of Statistics, and the New Zealand Government's Ministry for Business, Innovation & Employment.)
Intralogistics leader, Swisslog, has introduced to Australia and New Zealand a standardised 'off-the-shelf' version of its AutoStore roboticised storage and order processing solution, for which it is the world's number one integrator, with more than 300 major projects globally, incorporating efficiency gains that readily scale down to SMEs.
"The standardised model was replicated from Europe, where it has seen great success across a range of industries. Australian companies have been quick to take up the technology, where they have been seeing immediate benefits. They've recognised our experience in implementing these types of standard systems," says Swisslog Business Development Manager, AutoStore, Ken Chen.
"With increasing labour costs and soaring commercial real estate prices, SMEs are looking for ways to increase storage density and maximise the efficiency of their picking and put-away processes," he says.
"This is where a standardised off-the-shelf solution can provide major benefits, because it can easily be deployed into a running supply chain, with only minor adaptations, where it can greatly improve logistic capacity and unlock further market potential."
"Off-the-shelf warehouse automation solutions like the standardised Swisslog AutoStore system can be implemented with lower costs and a faster installation time, due to shorter design and software implementation time before and during commissioning. This means a faster time-to-market, helping SMEs stay competitive locally and globally. It's then easily scalable, so it can grow as the business grows in the future," he added.
Swisslog AutoStore allows SMEs to act fast
AutoStore is a high density cube-based automation solution that uses robots and bins to quickly process small parts orders. Its unique design allows the direct stacking of bins on top of each other, and multiple SKUs in a single bin, thereby maximising use of available warehouse space. AutoStore solutions implemented by experienced Swisslog automation engineers can typically deliver the same throughput with a 60% reduction in warehouse space.
"With Swisslog's extensive global experience with implementing AutoStore solutions, we are able to help customers achieve the best value for money, fastest payback time, and best ROI for their investment," says Chen.
The system integrates with Swisslog's SynQ software, which will allow it to naturally learn which products have a higher rotation, so that these can be automatically stored on the top layer to deliver faster picking times.
"The grid-like structure of AutoStore makes it simple to fit around any existing warehouse space, even around structural columns, different floor heights, or other spatial irregularities. Swisslog works with each customer to deliver the optimal outcome to their warehouse configuration," says Chen.
"For SMEs, this means they can respond quickly to market changes, and can choose to automate particular product lines or sections of their warehouse that need to scale up. Swisslog's standard AutoStore solutions can typically be implemented in 8-10 months, with companies seeing a return on investment within 2-4 years," he adds.
Energy efficiency
AutoStore is also a highly energy-efficient system, with each robot using approximately 0.1 kW of energy per hour. For comparison, 10 robots would use the equivalent of a toaster.
"Sustainability is central to Swisslog's company culture – from regenerative braking technology to reducing warehouse space to save energy, which has particularly strong benefits in cold storage facilities – and AutoStore fits with our vision to consistently improve sustainability of our own operations, as well as those of our customers," says Chen.
About us:
Swisslog shapes the future of intralogistics with robotic, data-driven, and flexible automated solutions that achieve exceptional value for our customers. Swisslog helps forward-thinking companies optimise the performance of their warehouses and distribution centres with future-ready automation systems and software. Our integrated offering includes consulting, system design and implementation, and lifetime customer support in more than 50 countries.
Contact details:
Jack Mallen-Cooper
PR Consultant
Whyte Public Relations
(02) 9901 4306
whytepr@whytepr.com.au