Sydney is now equal with Hobart as the least affordable rental housing market in the nation, posting its worst result since 2017, according to a landmark study that cross references average incomes against median rents.
The annual National Shelter-SGS Economics and Planning Rental Affordability Index shows rents in Greater Sydney are significantly higher than any other region in Australia. While the median rental price in Greater Sydney in June 2023 of $650 had increased $100, or 18.2% in the year prior, average rental household income in Greater Sydney only increased by 2.4%.
This represents a 13 per cent deterioration in rental affordability in the last year. This comes as the NSW Government plans to announce the rezoning of land around seven Metro stations in its bid to spur on a significant increase to Sydney's housing supply.
"We are past the point of ringing alarm bells about Sydney's rental affordability," said John Engeler, CEO Shelter NSW. "This deep and entrenched crisis demands a significant expansion of social and affordable housing, stronger renters' rights and a realistic level of Commonwealth Rent Assistance.Truly affordable rental housing needs to be secured for these households. It can't be left to the private market. The NSW Government has the power and means to provide it, or require it."
If Sydney's current trend continues, it will soon be the only capital city in Australia with a Rental Affordability Index below the critical threshold of 100.
The problem is especially pronounced among very low-income households whose share of household income going to rent is significantly higher. For people on low incomes such as single people on Jobseeker, single or coupled pensioners, and single part time worker parents on benefits, rents were classed as either extremely unaffordable or severely unaffordable.
No suburbs with coastline have acceptable rental affordability and inner areas are also either unaffordable or extremely unaffordable. The average rental household generally must travel 15-20km from the CBD to areas such as Campsie and Lakemba in the south, or Rosehill and Parramatta to the west, to find acceptable rents, meaning key workers on modest incomes in industries such as health, aged care, retail or hospitality, are suffering longer commute times across Sydney.
Many inner suburban locations such as Waterloo, Camperdown, and Erskineville declined sharply in affordability, falling into a lower affordability bracket (90 to 74, 109 to 90 and 92 to 81 respectively).
Western and South-west Sydney (from Camden, through Liverpool, to Parramatta) were previously among the most affordable regions of the city, with RAI scores ranging from acceptable to affordable in 2021. These have now deteriorated, becoming moderately unaffordable or unaffordable. The Bankstown to Campsie corridor has shifted from affordable to acceptable 2023. This corridor sits within the longer Sydenham to Bankstown Metro corridor, likely to be targeted for a big population increase. Without significant stocks of social and affordable housing low-income renters, including essential workers, will be driven from the area.
"This is a social calamity but also a deep economic problem," said SGS Economics & Planning Principal, Ellen Witte. "Key workers in critical industries are travelling further and further and being priced out of their city. We need a serious plan to provide the right housing at the right price to people who really need it. And we need to back that up, by supporting and empowering renters," Ellen Witte said.
Greater Sydney affordability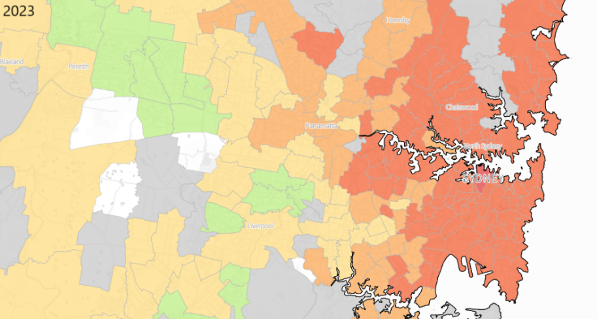 | | | | | |
| --- | --- | --- | --- | --- |
| Household type | Indicative gross annual income | RAI score | Rent as a share of income | Relative unaffordability category |
| Single person on Jobseeker | $22,100 | 22 | 137% | Extremely unaffordable |
| Single pensioner | $36,700 | 37 | 82% | Extremely unaffordable |
| Single part-time worker parent on benefits | $44,800 | 40 | 76% | Extremely unaffordable |
| Pensioner couple | $54,300 | 52 | 58% | Severely unaffordable |
| Hospitality worker | $62,800 | 70 | 43% | Severely unaffordable |
| Student sharehouse | $84,800 | 72 | 42% | Severely unaffordable |
| Minimum wage couple | $91,800 | 81 | 37% | Unaffordable |
| Single income couple with children | $104,500 | 90 | 33% | Unaffordable |
| Single full-time working parent | $104,500 | 95 | 32% | Unaffordable |
| Dual income couple with children | $209,000 | 181 | 17% | Affordable |
EDITOR'S NOTE:The rental affordability index scores areas based on median rental prices and average income of rental households within the capital city or rest of state area. A score of 100 indicates households spend 30 per cent of income on rent, the critical threshold level for housing stress. A lower score is worse.
A score of 50 or less indicates extremely unaffordable rents, 51-80 indicates severely unaffordable rents, 81-100 indicates unaffordable rents, 101-120 indicates moderately unaffordable rents, 121-150 indicates acceptable rents, 150 or more indicates affordable rents.
Interviews: Cathy Callaghan 0407 067 587 or Nick Lucchinelli 0422 229 032