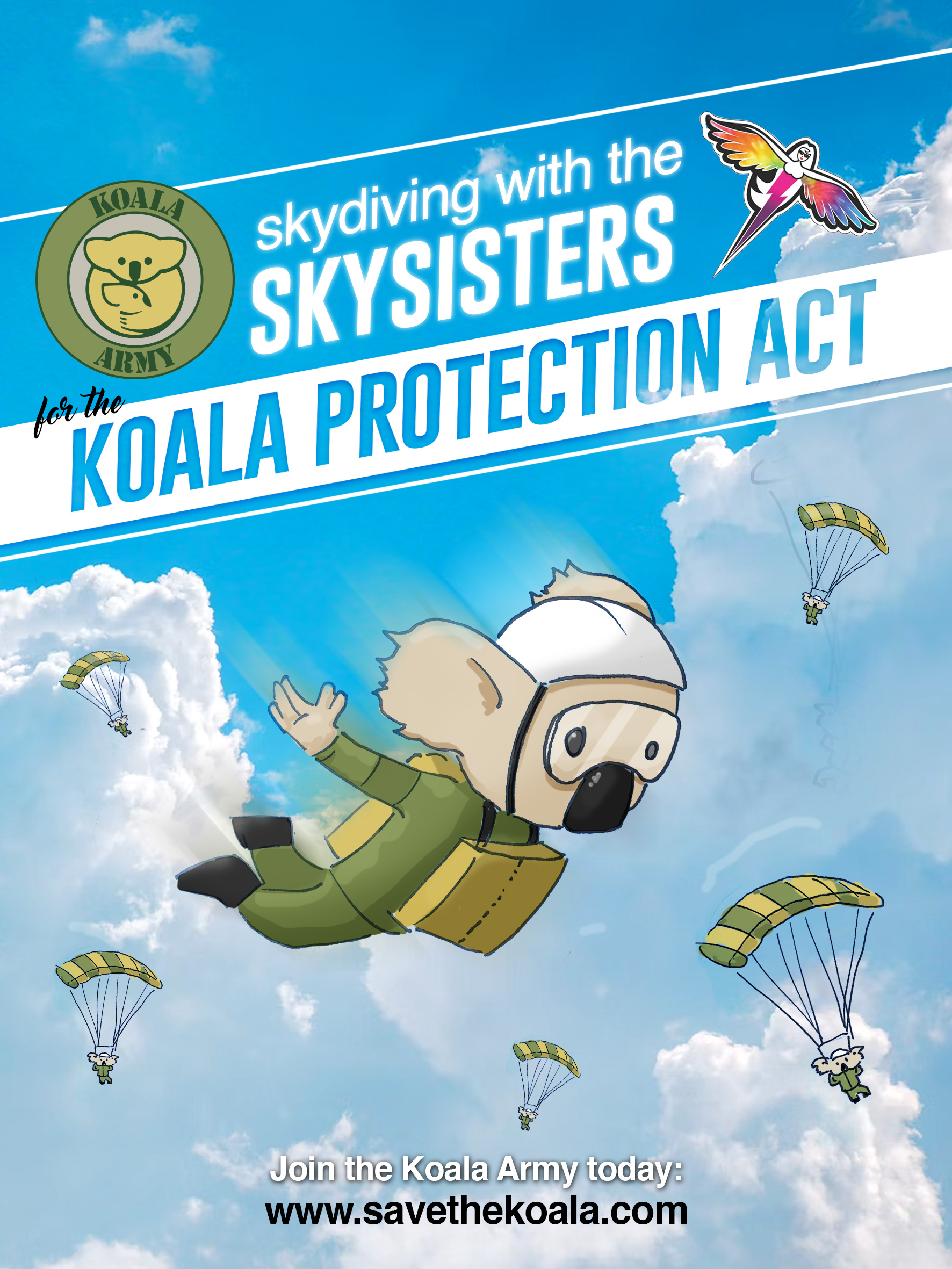 A group of courageous women are teaming up with the Australian Koala Foundation (AKF) to join the Koala Army and take their dedication to Koala conservation to new heights. In the picturesque town of Toogoolawah, QLD, the Sky Sisters will don Koala onesies and skydive in a remarkable spectacle to support the Koala Protection Act, a key initiative of the AKF aimed at safeguarding the Koala and its habitat.
WHAT: Expected to draw 17-20 women skydivers in Toogoolawah, QLD – the perfect backdrop for this important effort. The event will feature top skydiving photographers, including Emmy award-winner Wendy Smith and women's fund recipient Jodie Mayo. Natasha Dingle, a participant, holds the women's world record for the fastest skydive.
WHO: Sky Sisters event organisers, Susie McLachlan, and Gem Hodges. Natisha Dingle, world record speed skydiving coach
WHERE: Ramblers Parachute Centre manifest officer (main building) 7353 Brisbane Valley Highway, Toogoolawah
WHEN: Sunday 19 November, from 7am to Sunset
Interview opportunities with Susie Mclachlan, Gem Hodges, and Natisha Dingle regarding the skydive jump.
Visual opportunities to capture the skydivers in their costumes throughout the day, with the skydivers holding up signs saying "we want a Koala Protection Act" and "#notreenome".
Skydives will be occurring every hour from 7am, until sunset.
About us:
About the Australian Koala Foundation
The Australian Koala Foundation (AKF) is the principal non-profit, non-government organisation dedicated to the conservation and effective management of the wild koala and its habitat. The AKF aims to refine and update the Koala Habitat Atlas mapping of all wild Koala habitat and to get the Koala Protection Act enacted, ensuring the longevity of koalas and their habitat.
About Sky Sisters
Sky Sisters is about encouraging, supporting, motivating, and challenging experienced, up-and-coming, and all skydiving women across Australia. These efforts culminate in the Sky Sisters event in November in Toogoolawah, which is an event for women, by women, with women coaches and women centred activities. It allows skydiving women across Australia an opportunity to meet, progress skills, try new disciplines, learn, and grow the sport together.
Contact details:
Australian Koala Foundation media: communications@savethekoala.com
pr@savethekoala.com
0428 104 255 or (07) 3229 7233