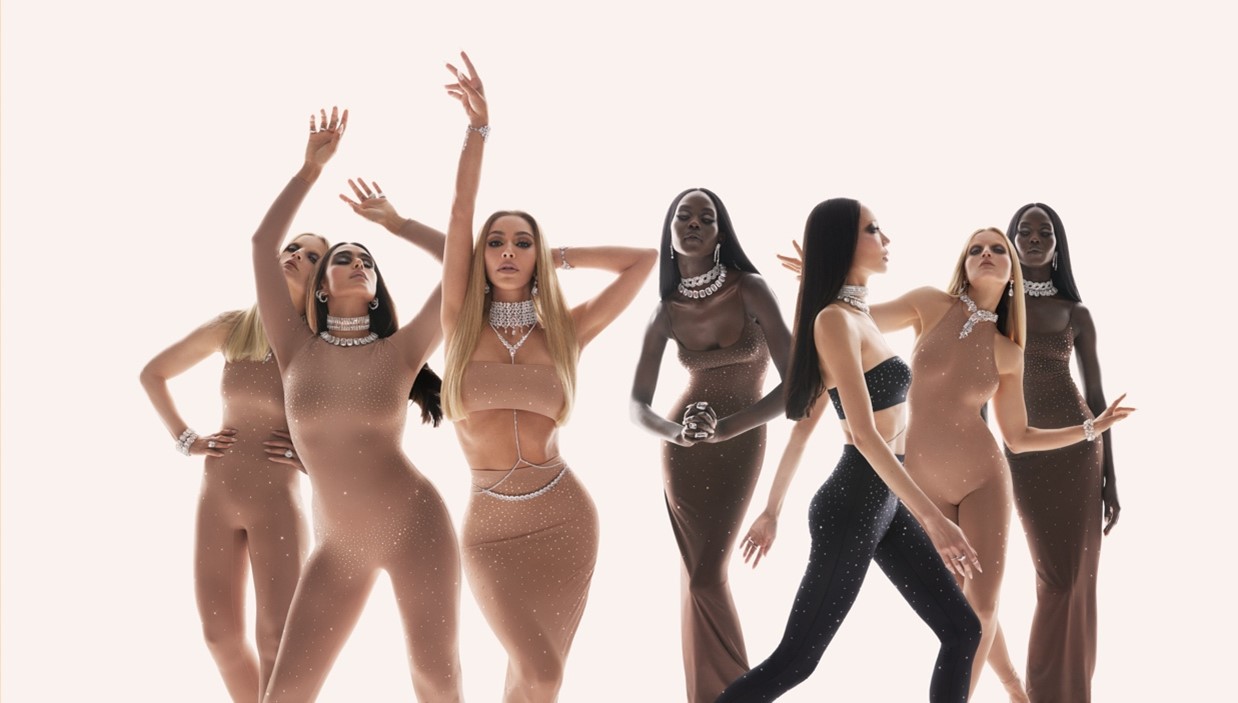 Swarovski and SKIMS have joined forces on a shimmering range of body jewellery, intimates, and ready-to-wear. Launching in ANZ on November 7th, 2023, at the Swarovski Westfield Sydney Store and online at skims.com, Swarovski x SKIMS is the natural meeting of visions between two iconic brands. The collaboration pairs the joyful extravagance that defines Swarovski with the ingenuity of SKIMS signature fabrics in one collection that exudes glamorous self-empowerment.
"It's been a dream since I joined Swarovski to create a first- ever collaboration with SKIMS that furthers the art of self-expression," says Giovanna Engelbert, Creative Director, Swarovski. "Our collection is a celebration of the body, and of strong, independent women who value their individuality and embrace life with confidence and style."
"For this collaboration, we really wanted to celebrate individual creativity and bring more glamour into getting dressed every day," says Kim Kardashian, Co-Founder & Creative Director, SKIMS. "The pieces are so dreamy, and we loved integrating the iconic crystal cuts into my favourite SKIMS pieces. We can't wait for everyone to love Swarovski x SKIMS as much as I do.''
The collaboration is unveiled with a series of astonishing images featuring Kim Kardashian. Shot by globally renowned photographer Mert Alas, the campaign captures the glamour and artistry that define Swarovski x SKIMS while celebrating representation and individual confidence.
Swarovski x SKIMS features crystal body jewellery that can be styled in multiple ways and ready-to-wear including crystallised intimates, bodysuits, and dresses that shine with luxurious brilliance.
Swarovski x SKIMS crystal body jewellery is size-inclusive and flatters the feminine silhouette with next-level brilliance. Inspired by the Millenia jewellery collection, the pieces can be layered over or under a garment, and styled with matching chokers, necklaces, and bracelets for showstopping impact. Handcrafted with meticulous precision, each piece offers unique beauty and radiance.
Swarovski x SKIMS ready-to-wear is available in a range of crystal-embellished silhouettes that can be layered and worn for any occasion. Created with SKIMS signature fabrics that perfectly mold to the body, each empowering piece has been designed for confidence and comfort and is set with glittering crystals that radiate glamour and shine.
Swarovski X SKIMS launches globally on 7th November 2023 on Skims.com, Swarovski stores and in selected luxury stores worldwide. The collection will be exclusively available in Swarovski Westfield Sydney for Australia.
Please find imagery here.
PRESS ENQUIRIES:
Global PR global.pr@swarovski.com
SKIMS PR skims@derris.com
ABOUT SKIMS
Co-founded in 2019 by Kim Kardashian and Jens Grede, SKIMS is the solutions-oriented brand creating the next generation of underwear, loungewear and shapewear and setting new standards by providing solutions for everybody. From technically constructed shapewear that enhances your curves to underwear that stretches to twice its size, the brand's goal is to consistently innovate on the past and advance the industry. SKIMS sells directly through its website (SKIMS.com), as well as through select partnerships with retailers including Nordstrom, Saks Fifth Avenue, KaDeWe, Brown Thomas, Selfridges, SSENSE, Net-a-Porter, Lane Crawford, Holt Renfrew and David Jones.
SWAROVSKI'S FASHION COLLABORATIONS – 128 YEARS OF CREATIVITY
Through its creative collaborations, Swarovski has been a catalyst for creativity and self-expression since 1895, when founder Daniel Swarovski first travelled to the ateliers of Parisian couturiers with his precision-cut crystals in astonishing cuts and colours.

Swarovski crystals have been the embellishment of choice for fashion designers for over a century. They transform everything they touch, adding irresistible allure and making clothing and accessories come alive in the most luxurious way.

Swarovski crystals have also played a supporting role in some of the most iconic moments of popular culture, such as Marilyn Monroe serenading President John F. Kennedy with 'Happy Birthday' wearing a sheer flesh-coloured dress gleaming with the brilliance of 10,000 Swarovski crystals. The Jean Louis-designed was famously worn by Kim Kardashian at the Met Gala in 2022.
ABOUT SWAROVSKI
Masters of Light Since 1895. Swarovski creates beautiful products of impeccable quality and craftsmanship that bring joy and celebrate individuality. Founded in 1895 in Austria, the company designs, manufactures, and sells the world's finest crystals, Swarovski Created Diamonds and zirconia, jewellery, and accessories, as well as home décor. Swarovski Crystal Business has a global reach with approximately 6,600 points of sale, of which 2,300 are owned stores, in over 150 countries and employs 16,600 people. Together with its sister companies Swarovski Optik (optical devices) and Tyrolit (abrasives), Swarovski Crystal Business forms the Swarovski Group. A responsible relationship with people and the planet is part of Swarovski's heritage. Today this legacy is rooted in sustainability measures across the value chain, with an emphasis on circular innovation, championing diversity, inclusion, and self-expression, and in the philanthropic work of the Swarovski Foundation, which supports charitable organisations bringing positive environmental and social impact.