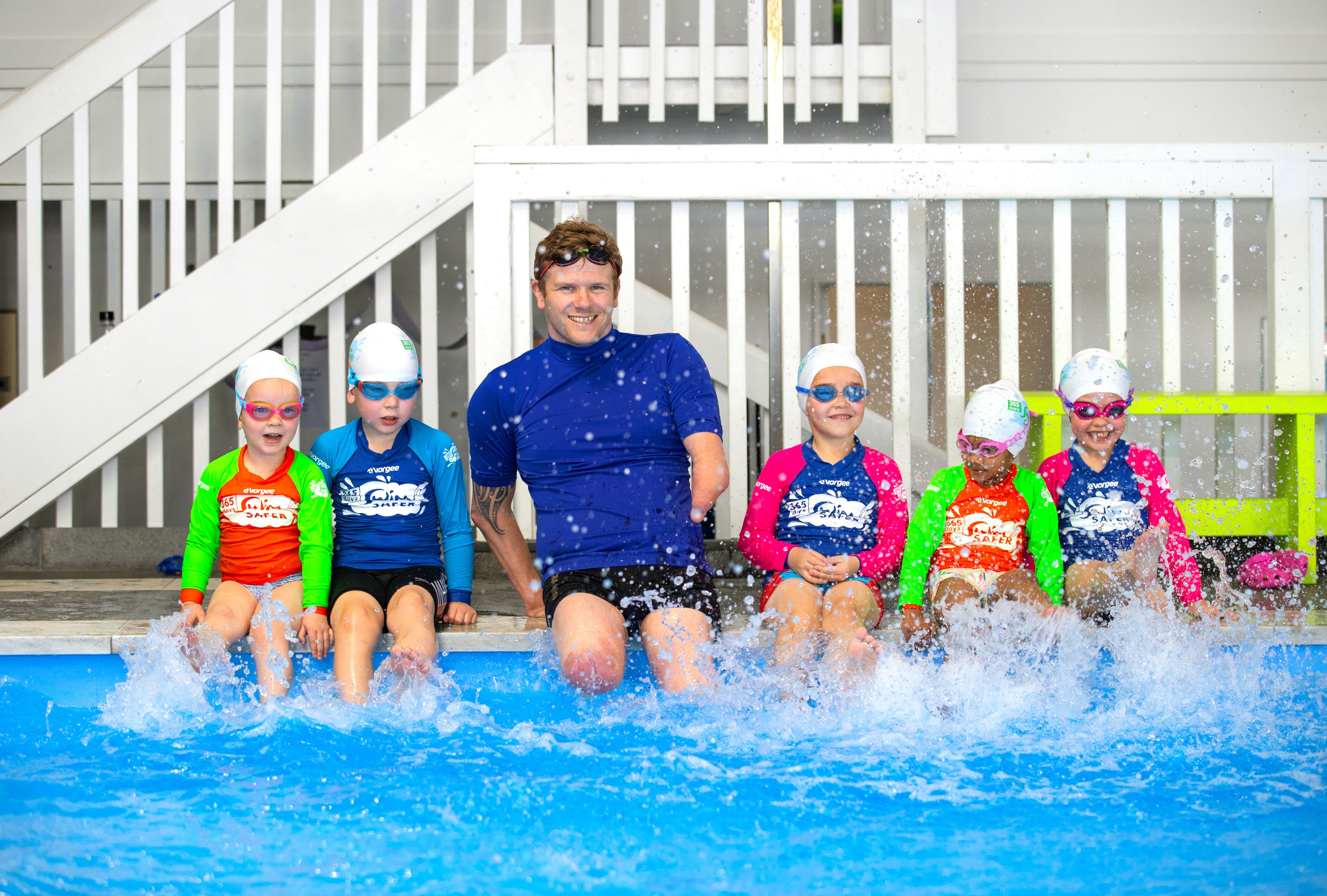 EMBARGO: November 13- The SWIMSAFER Report has revealed 43% of families surveyed did not have their children in swimming lessons, with 38% of parents believing their children were too young to learn to swim.
Commissioned by SWIM Coaches and Teachers New Zealand (SCTNZ) as part of the annual SWIMSAFER Week, the SWIMSAFER Report revealed concerning gaps in water safety knowledge and swimming skills in both children and adults.
Only 30% of parents surveyed reported they were confident their child had the skills to help themselves in a water emergency, and over half were not confident in their own abilities to help save someone in trouble in the water.
SWIM Coaches and Teachers New Zealand President, Daniel Fulton, urged parents to get their children into swimming lessons early, to ensure children received the lifelong water safety knowledge and swimming skills needed to be safe around water.
"By the age of three months, children can start infant learn-to-swim programs, where the child explores and enjoys the water with their parents. Kids are exposed to water of all forms right from birth, so it's important they get comfortable in and around water as early as possible," he said.
With 40% of parents surveyed revealing that they did not receive formal swimming lessons as children and only 22% considering themselves strong swimmers, it's clear that there is a substantial gap in knowledge regarding water safety and the gravity of survival skills that warrant immediate attention and action.
Daniel Gerrard, Water Safety New Zealand CEO said with 101 drownings predicted by the end of December there was a dire need to ensure the community was equipped with the skills, knowledge, and awareness to enjoy waterways safely.
"Our new data analysis and predictive modelling tool reveals a potential national tragedy unfolding with projections showing the nation is expected to experience its most devastating year of drowning fatalities this century. Starting learning to swim and water safety programs early is one of the best preventative measures available to families.
"It's our responsibility to ensure our Tamariki are developing the necessary skills to be confident in the water. Swimming is a vital life skill, and I wholeheartedly encourage everyone to embark on this journey as early as possible. It's about ensuring our children can grow up with the knowledge and awareness needed to safely embrace the water and enjoy life to the fullest."
Mr Gerrard said the goal of Water Safety NZ was to ensure children developed the skills and knowledge they need to assess risk and make smart decisions around water.
"As the saying goes, 'it takes a village to raise a child', and we believe that by coming together as a community - parents, swim schools and all water safety focused organisations - we can empower our community with the knowledge and skills they need to be safe and confident in the water."
The SWIMSAFER Week initiative has garnered support from Para World Champion Swimmer, Cameron Leslie. As a world record holder and three-time Paralympic gold medalist swimmer, Cameron is a massive champion to the cause of water safety. He is also a father of three, making his commitment to this initiative deeply personal.
"I firmly believe that swimming is a transformative force. It's not only a life skill but also an empowering and liberating experience. The joy of being in the water and the confidence it brings are truly life-changing," said the SWIMSAFER Week Ambassador. "I am passionate about ensuring every child has the opportunity to learn to swim and be safe in the water. As a father I understand the significance of this more than ever."
With cost-of-living increases hitting vulnerable Kiwi families hard, Mr. Leslie also highlighted the SWIM It Forward project as a key initiative for making swimming lessons and water-based programs accessible to all children, regardless of their circumstances.
"The SWIMSAFER research indicated some families were forsaking swimming lessons due to cost of living pressures and SWIM It Forward is a simple way to help change this circumstance. By donating just one swimming lesson, people will be helping children gain a skill that could save their life."
SWIMSAFER Week Ambassador, Rob Hewitt, said all Kiwis needed to come together to support water safety initiatives like SWIMSAFER Week, to turn the alarming drowning statistics around.
"We've got to get every child in the water developing that crucial knowledge about how to stay calm in a water incident and get back to safety," he said. "We can't wait until kids are school age to get them learning about water and water safety because we are surrounded by water in all its forms, and even the most vigilant parent can be distracted for a few minutes, and that's all it takes for a child to drown."
This SWIMSAFER Week, parents are urged to re-educate themselves about why learning to swim is one of the top drowning prevention measures. Swim schools are celebrating SWIMSAFER Week across New Zealand with events and activities. For more information, to find your closest participating swim school or donate to the 'SWIM It Forward' initiative visit www.SWIMSAFER.org.nz.
Key Facts:
Creative and video material https://www.dropbox.com/scl/fo/pyn3bjcxs86tw0qlvkpez/h?rlkey=7asrydfojfd29km335uqj3sja&dl=0
Contact details:
For interviews with
Dan Fulton - President SWIM Coaches & Teachers NZ
Dan Gerard - CEO Water Safety New Zealand
Cameron Leslie - ambassador Para World Swimming Champion
Rob Hewitt- Ambassador
Contact igniteprmarketing@gmail.com