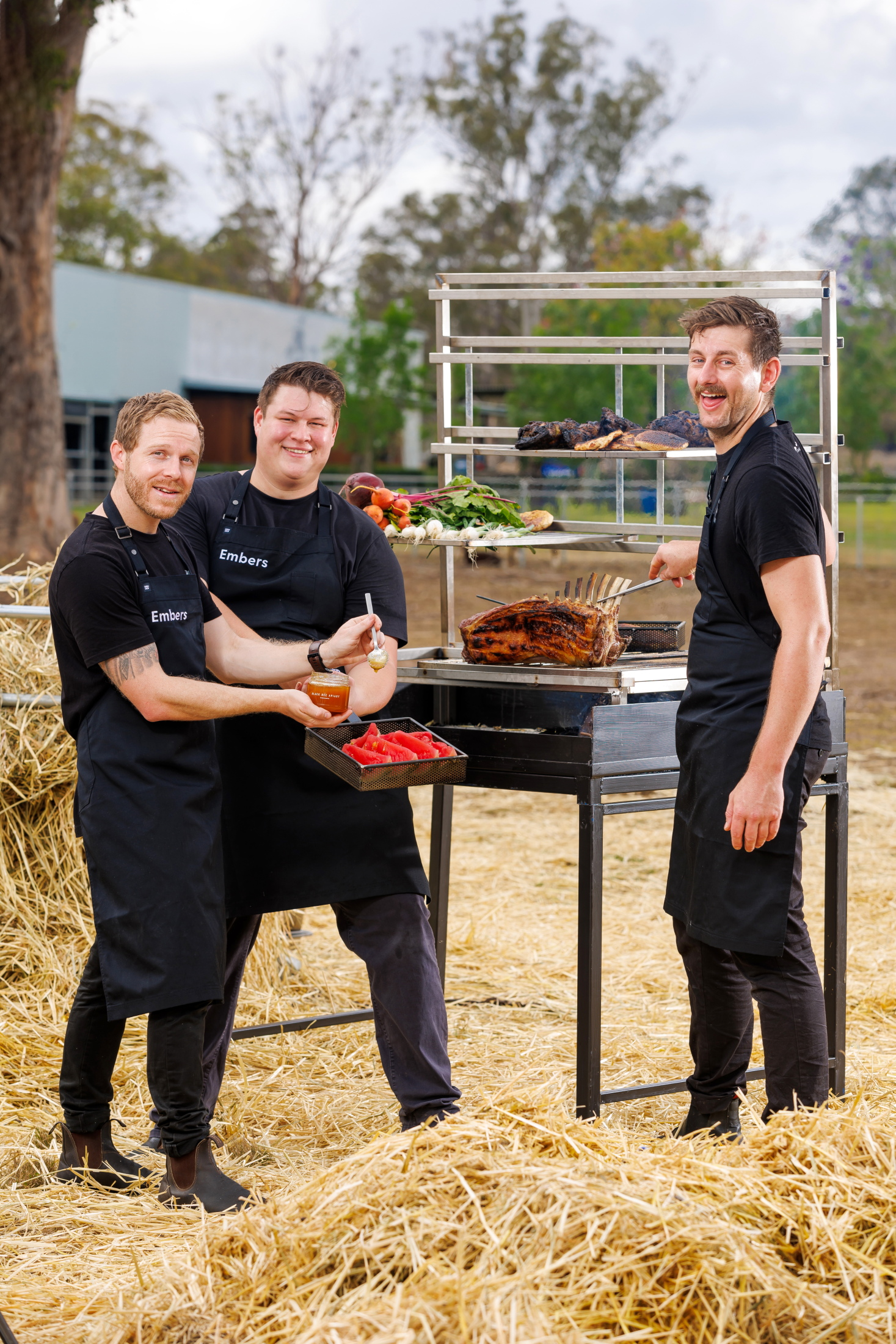 TOP CHEFS CHANGE LANES -
Embers fires up the flavour
When chefs love local produce so much, they go from plate to paddock!
In a reversal of the over-used (and under-delivered) adage Paddock to Plate - three extraordinary HATTED chefs have followed their love of local produce and producers to become roaming flavour-creators and champions of hyper-local flavours. Imagery, video and recipes HERE
EMBERS WOOD FIRE DINING is the brainchild of Chefs Simon Furley, Kyle McNamara and Alex Hall. After working together at the multi-award winning Homage Restaurant, then launching and gaining critical acclaim at Paddock Restaurant at Beechmont Estate, they have literally jumped the fence into the paddocks and places of South East Queensland (focusing on the Scenic Rim).
The concept of EMBERS is a Hatted chef trio with a love for local produce, creativity, masterclasses and chef collaborations, that can roam wherever they fancy. Like a Saturday monthly residency at Towri Sheep Cheese near Beaudesert, tasting nights at Veranda House Estate at Tamborine, private dinner parties and weddings, festival, and dining events all over South East Queensland. They leave their mantelpiece of awards at their kitchen HQ in the Scenic Rim, and head to where the tastebuds call them, creating plated masterpieces cooked over fire.
In addition to offering a range of dining experience and menus able to be delivered anywhere, EMBERS will run masterclasses and tastings with growers, producers and guest chefs also involved, some of which include:
Master Dry Aging and prime beef cookery over fire beers and steaks days

Sip and bake pastry classes

Charcuterie Masterclasses

Fish Butchery Masterclass

Fire & Pottery Masterclass

Nose to Tail & Root to Shoot Masterclass

Fermentation Masterclass
"We have spoken for a few years of working together, and with working intimately with local producers, but we didn't want to go the traditional restaurant route, we wanted freedom from a set work week to try something different," said Chef Simon Furley who is also famed as a Regional Food Ambassador the Eat Local Month.
"The culinary landscape across the world and here in Queensland has changed significantly, and we want to embrace it. We feel there's a gap in the dining and flavour market for South East Queensland food lovers and we will bridge that gap with Mrs Frost's Farm as our headquarters – a 25 minute drive from the Gold Coast and one hour from Brisbane, right on the edge of the glorious Scenic Rim, the region famed for incredible produce and innovative, generous farmers."
"Call it what you will – paddock to plate, nose to tail, root to shoot, hive to home… we are wood fire driven, hyper local in flavours and produce, and every one of our dishes tells a story. We are constantly communicating with our local growers, producers and suppliers and have built great relationships over the years. They really are the people behind the produce on our plates. Embers is incredibly proud to be using these producers and countless others….
Tommerup's Dairy Farm – "This 6th generation farm produces an absolute premium product of the best quality, with incredible care taken in every step. We purchase pork, veal and creme fraiche, and receive the animals whole and then do our own butchering (which will be a masterclass next year ending with cooking over fire and enjoying a banquet lunch!)," Chef Simon Furley.
Harry's Paddock – "Harry Tommerup (sone of Kay and Dave), grows veggies on their farm using farm waste to fertilise, thus creating a closed loop farming system with no waste. Everything has purpose. He grows the very best small batch bio-dynamic vegetables and heritage vegetables; I'm amazed each time I order!"
Towri Sheep Cheeses – "The hogget and sheep's cheese of different varieties is as good it gets from a chefs point of view from this farm. The way the sheep are raised and cared for is admirable, and it shows in the final product (the colour and quality of the meat is astounding) and we

have many plans with them in future from long lunches to a pop-up restaurant. It is a very special creative space with stunning produce."
Australian Sweetwater Crays – "This is a fully off-grid sustainable ethical cray fish farm specialising in Redclaw, near Beaudesert in the Scenic Rim. They have the biggest crayfish I have ever worked with! Working with sustainable fish and crays is very important to us, and we are very passionate about sustainability given the current climate. We are doing a special full circle lunch with them in January all about their small herd sheep they are selling, and cray fish - Crays and Hay Full Circle – watch our social for details!"
Pretty Produce – "We forage here as much as possible to pick edible flowers and plants on the property just out of Canungra. To be able to have all of these flowers and herbs to pick at our leisure is a privilege."
Forgotten Sound Farm – "A farmer of the future, these guys are 'soil driven', thinking not about the produce, but about the micro biome and health of the soil. It's a small organic farm which grow things specifically for Embers and we are having a lunch in 6 months, and are very excited to work with them."
Summerland Camel – "Their award-winning feta is incredibly versatile, and great on a plate."
Valley Pride Produce - "This multigenerational farming family is our go- to vegetable supplier for top notch seasonal vegetables in a big quantity."
Scenic Rim Pottery – "This brilliant potter makes our plates to order. We collaborate on ideas and she is always happy to try new crazy ideas we have. Amazing work!"
Greenlea Farm Macadamias – "Given we will only use hyper local ingredients to where-ever we are working, having macadamias nearby is incredible for us, as we use them for all sorts of things from smoked and roasted to fermented tofu style. Delicious!"
Butcher Co Boonah & Kalbar – "Kane the owner and butcher has small herd of Black Angus which we use for dry aging; the marbling and the richness in flavour is stunning. Embers is definitely protein-driven and we know exactly where everything comes from with Kane; we are very lucky to have him in the region."
Christie's Traditions in Timber - "Embers wouldn't be the same without her timber skills, and Christie is making most of our roaming kitchen pass, our tables and bowls which gives us a natural modern look."
ABOUT THE CHFES:
The three have worked together for almost seven years, in which time they achieved at Homage restaurant at Spicers Hidden Vale, Grandchester.
· 2015 Good Food Guide – One Hat
· 2015 Australian Good Food Guide – Two Hats
· 2016 Good Food Guide – One Hat
· 2016 Australian Good Food Guide – Two Hats
· 2016 Delicious Magazine Top 14 Restaurant QLD
· 2017 Good Food Guide – One Hat
· 2017 Australian Good Food Guide – Two Hats
· 2019 Good Food Guide – One Hat
· 2019 QHA Best Restaurant, Accommodation
· 2019 Restaurant and Catering Savour Awards – Winner Fine Dining Restaurant
· 2019 Australia's Wine List of the Year Awards – Two Glasses
· 2019 Traveller – Regional Australia's Ten Best Restaurants with Rooms
· 2020 R&CA QLD & NT – Best Fine Dining Restaurant
· 2020 Australian Good Food Guide (AGFG) – Two Hats
· 2020 Gourmet Traveller Wine List of Year Awards – Two Glasses
· 2021 Australian Good Food Guide (AGFG) – Two Hats
The Paddock restaurant at Beechmont Estate (formerly Hazelwood Estate), Beechmont
· 2022 Australian Good Food Guide – One Hat
· 2023 Australian Good Food Guide – Two Hats
All of these awards plus countless rave reviews and publications in local and international media in their time at Beechmont Estate.
EMBERS WOOD FIRE DINING
Chefs Simon Furley, Kyle McNamara and Alex Hall
https://emberswoodfiredining.com.au/
Email: bookingsatemberswoodfiredining