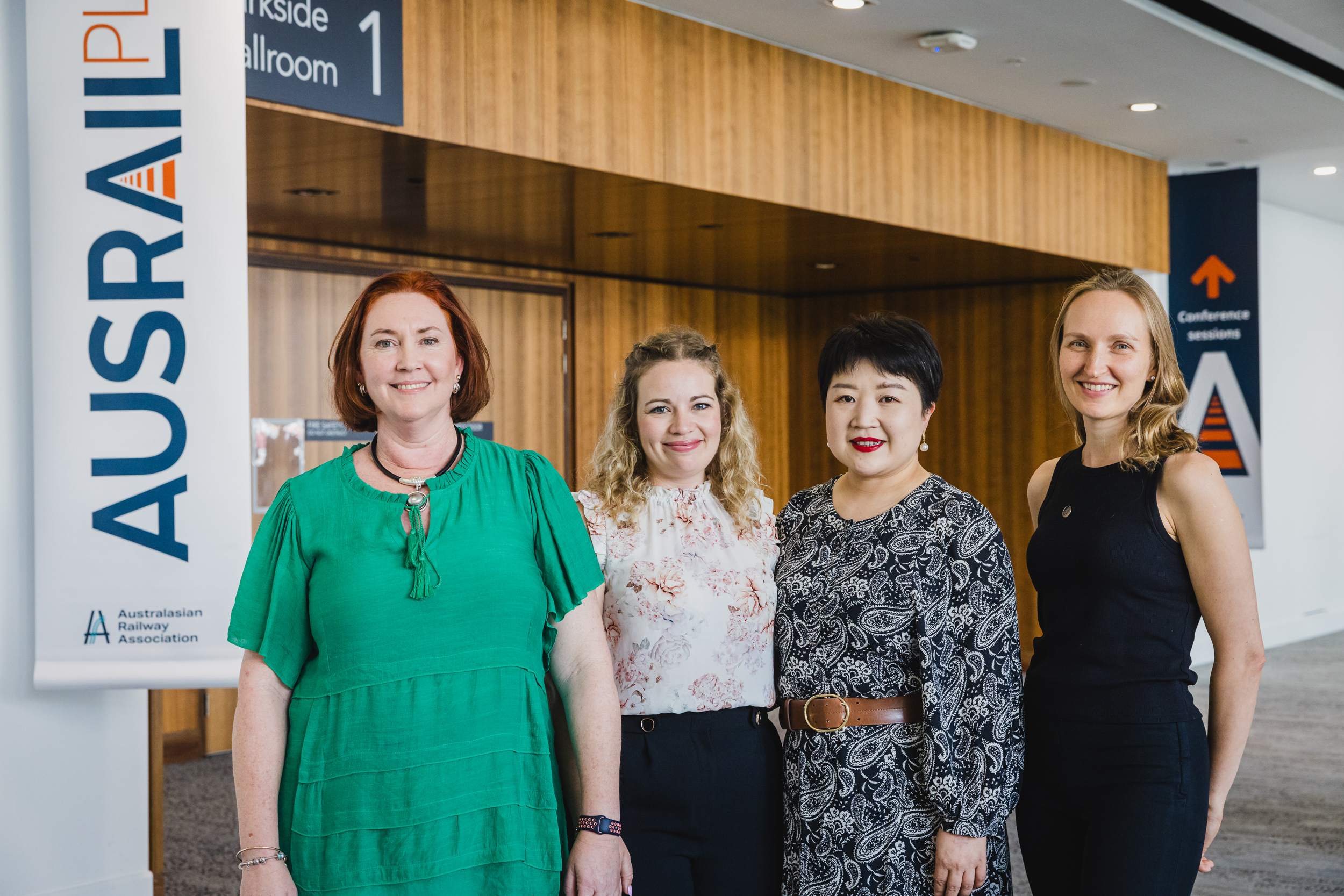 The Australasian Railway Association (ARA) has awarded eight women working in the rail industry professional development scholarships as part of its diversity and inclusion strategy.
ARA CEO Caroline Wilkie congratulated the recipients at a Women in Rail Breakfast, held at the ARA's AusRAIL PLUS 2023 conference, the largest of its kind in the Asia Pacific region.
Ms Wilkie said the ARA's recently launched three-year Women in Rail Strategy aims to foster an inclusive and diverse industry that is recognised as an employer of choice for women.
"Given Australia is experiencing an unprecedented $154 billion infrastructure investment pipeline over the next 15 years, increasing diversity in rail is absolutely critical," said Ms Wilkie.
"Not only will it ensure the long-term sustainability of rail, but it is well known that diversity in the workplace drives improved performance, innovation and better solutions.
"We are committed to fostering equality of opportunity for women in the rail sector by breaking down barriers and empowering women at every level of industry.''
The following applications were successful for the CEW Leaders Program:
Yuliya Piper, Director, AIG
Aimee Najolovski, Alliance General Manager, Acciona
The following applicants were successful for the Women Rising program:
Caroline Moss, Group Senior Manager Environment and Sustainability, QR
Eva Becht, Manager, Alstom
Shani Davies, Senior Project Manager, MTM
Meana Delli-Priscoli, Assistant Manager, Sydney Trains
Regine Wynne, Principal Advisor Capability Development, QR
Li Lui, Manager – Rail, SMEC
Ms Wilkie said the ARA hoped that the scholarships, valued at $25,000 collectively, would help female managers and executives progress their careers in rail.
"It was so difficult to select the successful applicants that we extended the Women Rising program from four to six scholarships. All of the 44 entries for both programs were incredibly impressive and demonstrated the importance of fostering female talent in our industry."
The CEW Leaders program is delivered by Chief Executive Women and is valued at $8,000. It is aimed at an executive-level woman wanting to accelerate her career and is a seven-day program delivered over seven non-consecutive days in three face-to-face blocks.
Women Rising is an online course of one to two hours a week, held from March to June next year, and is valued at $1,299. It is for mid-level managers wanting to develop their personal and professional leadership capabilities.
Female participation in the rail industry is about 24 per cent and it will take until 2049 to reach gender parity, according to the ARA's Gender Diversity report released last year.
The ARA's Women in Rail Strategy outlines several initiatives based on the focus areas of industry knowledge, organisational impact, professional development and promoting women in rail.
The ARA's Women in Rail Committee Chair and ARA Board Director Rebecca Want said the ARA is working with industry and government to implement measures to help close the gender gap.
"Our Women in Rail vision is for an inclusive and diverse industry without barriers, and one that is recognised as an employer of choice for women," Ms Want said.
"There are so many opportunities for women to enjoy very rewarding careers in rail during this once-in-a-lifetime transformation of the industry."
More information on the ARA's scholarship program can be found here.
Contact details:
Natasha Wallace, Senior Strategic Communications Manager, 0499 272 672.