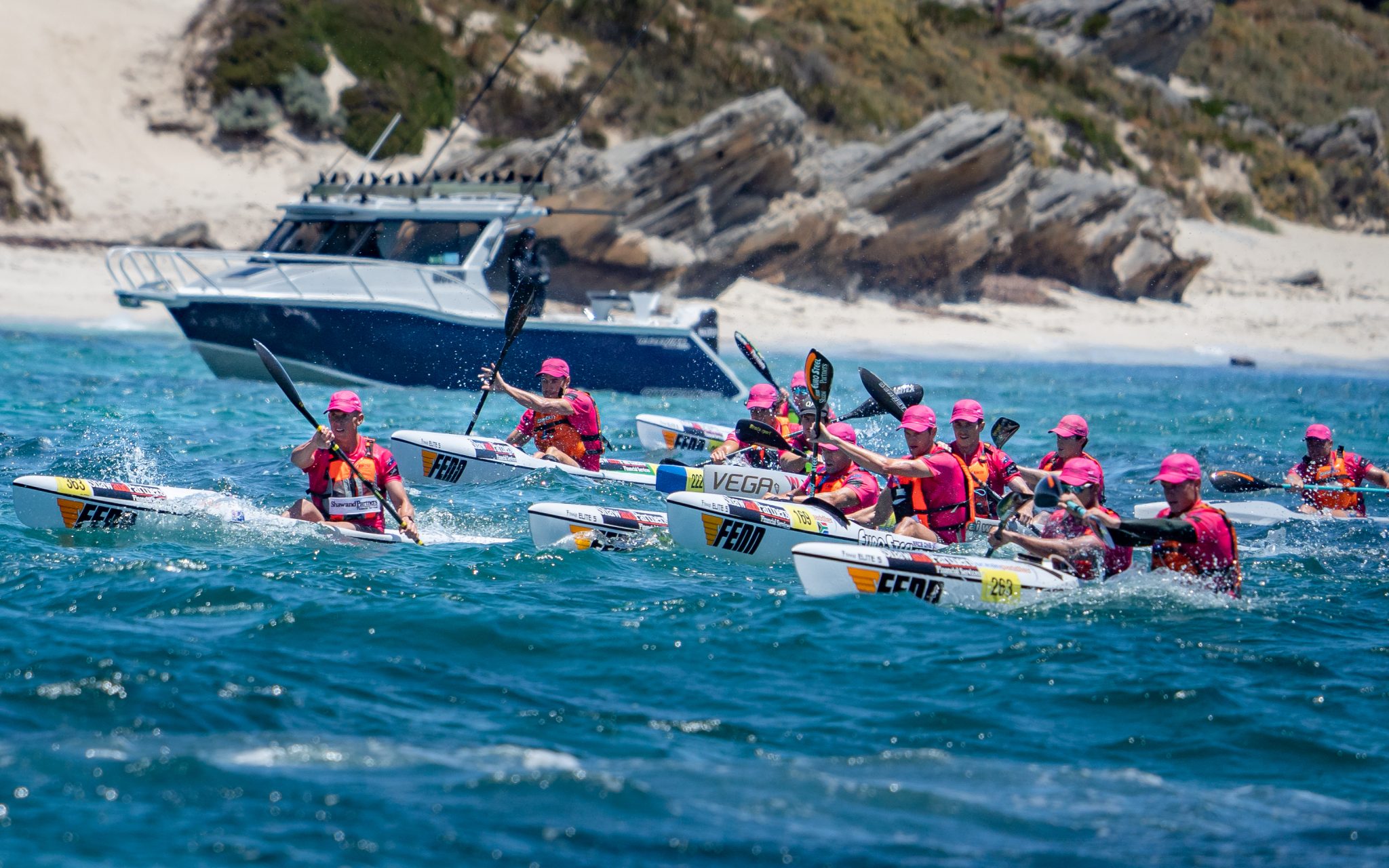 Key points:
+$180,000 in cash & prizes offered across 5 race series
+1,200 competitors, including from South Africa, the UK, United States of America, Singapore, France and Hong Kong
Australian/ New Zealand contingent boasts world class surf lifesaving & paddling talent
Other notable competitors include Dual Paralympian John Maclean, Triple amputee Jon White and local Dave Norton, who at 73 is the oldest competitor in the series
Includes 20th running of the holy grail of ocean racing - "The Doctor" – a legendary 700-person 27km downwind race from Rottnest Island to Sorrento Beach (Saturday 25 November)
Australia's largest Nipper clinic will also be held during the week (Sunday 19 November @ Sorrento Beach), where Australian iron men/ women will conduct training sessions for +600 Nippers.
NOTE: High quality images (of event and previous winners) and TV quality vision (including B-Roll) are available here:https://www.dropbox.com/scl/fo/9nejvrx1rf4rihwu18du6/h?rlkey=xaun6xegk0rxnmnde7g0i9nu3&dl=0
The richest week in global ocean ski paddling, the Shaw and Partners Financial Services WA RACE WEEK, will be held from 18-25 November 2023. Attracting the worlds best ski paddlers, the five-event series boasts a prize pool of $180,000 in cash and prizes.
Link to series promo video: https://youtu.be/yQjTItdPQ4I
The finale to the series, THE DOCTOR, is recognised globally as the "holy grail" of ocean racing. A gruelling 27km downwind race from Rottnest Island to Perth's Sorrento Beach, this years 20th running of the iconic race, will see the largest field ever assembled. 700 competitors (up from 500 in 2022) from South Africa, the UK, United States of America, Singapore, France, Hong Kong, Australian and New Zealand will be vying for title and the $50,000 on offer.
Commenting on the idea behind the iconic event and the growth of The Doctor over the past 20 years, event organiser and previous race winner, Dean Gardiner, said, "as a Perth local growing up the idea of paddling from Rottnest always had appeal – you are protected by the island and when the "doctor" breeze comes in you have the opportunity to catch some of the best downwind waves globally"
"We originally based the race on a legendary Hawaiian race, which spans 52km between the islands of Molokai and Oahu."
"The concept of racing island to island is what the sport has grown on. That (Molokai) is long, this is 26-27km. It's half the distance, all the logistics are a lot easier, and the wind blows in exactly the direction we want it to blow," Gardiner added.
"In the early days less than 100 people would race, now we have a global field, that continues to grow year on year, and the event is recognised globally as one the 'holy grail' events for ocean ski paddlers," he concluded.
Among the favourites for the Doctor in the men's event are four-time winner Cory Hill from the Gold Coast, South Africans Hank McGregor and 2022 winner Kenny Rice and in the women's Jenna Smith from NSW, Kiwi and 2022 winner Danielle McKenzie and South African Michelle Burn.
Notable paddlers to feature in race week will include:
Kenny Rice - South Africa - current world champ 2022 and Doctor 2022 winner
Danielle Richards (MacKenzie) - New Zealand - 2019 and 2022 Doctor champ and WA Race Week champ
Jemma Smith - Current World Champion 2022 and runner up Doctor 2022
Hank McGregor - South Africa - 2nd World Championships 2022
Cory Hill - SA - 2017, 2018 and 2019 Doctor winner and WA race week winner 2022
Tim Jacob - NSW - returning to competitors after a big break - 2011 and 2012 winner
Tom Norton - TAS - current leader of AORS
Michael Booth - local - SUP champion
James Tomkins - Awesome foursome
Riley Fitzsimmons - Olympian Kayaker
Dual Paralympian John Maclean (see: https://oceanpaddler.com/john-maclean/)
Triple amputee Jon White (see: https://www.thepaddler.news/latest-news/inspirtational-surfski-paddler-set-for-astonishing-new-challenge/)
Ironmen/women
Ali Day
Bonnie Hancock
Georgia Miller
Cory Taylor
Emily Doyle
Hannah Sculley
Kendrick Louis
Zach and Jake Morris
Bella Williams
Other - oldest competitors
David Norton - doing Fenn West Coast Downwinder & The Doctor - oldest competitor at 74
Bill Ridderhof - Qld oldest competitors - doing all the races at 73
Full details of Shaw and Partners WA Race Week can be found here: https://oceanpaddler.com/ocean-events/wa-race-week/program-wa-race-week/
SERIES RACE SCHEDULE
Shaw and Partners WA Race Week kicks off on Saturday November 18, with the 24 km Fenn West Coast Downwinder from Fremantle up the coast to Sorrento Beach. Mid-week action features two short-course races on Tuesday and Thursday at 5pm, with the 11km Dr Benjamin Hewitt Sunset Surfski Series from Fremantle to City Beach.
Friday's action moves to Sorrento Beach for the early-morning Dash for Cash, where paddlers race in a knock-out series to make the final 15 for a mad paddling dash from the cans to the beach and a bolt to the finish line.
Saturday is the finale, the ultimate ocean paddling race, The Doctor. A maximum of 700 paddlers, men and women, will contest the iconic 27km downwind race from the calm waters of Rottnest Island and Thompson Bay. Once they leave the island, the field faces the crossing to the mainland negotiating the fast-moving ocean chop, whipped up by the south-west wind, the event's namesake, the famed Fremantle sea-breeze. For 90 minutes plus, paddlers will hook into the steep surfable chop, before turning at the Centaur Marker for the final 6km up the Perth coast to the Doctor finish arch on the pristine sands of Sorrento.
AUSTRALIA'S LARGEST NIPPER CLINIC AT SORRENTO BEACH
On Sunday 19 November 2023 (9am start), Sorrento Beach will host Australia's largest Nipper Clinic. +600 Nippers will take part in the FREE two-hour Shaw and Partners/ Race One Surf Craft Nipper clinic, run by some of the country's leading iron men/ women, including 2023 Coolangatta Gold winners Ali Day and Lana Rogers, Jemma Smith, Kendrick Louis, Bella Williams, Cory Hill, Emily Doyle, Georgia Miller, Hannah Sculley, Jake Morris, Corey Taylor, Zach Morris and Michael Booth.
NOTE: High quality B-Roll vision and interviews with key participants will be available to media within two hours of both the Nipper Clinic and The Doctor concluding.
ENDS
Contact details:
David Tasker
Chapter One Advisors
T: 0433 112 936
E: dtasker@chapteroneadvisors.com.au