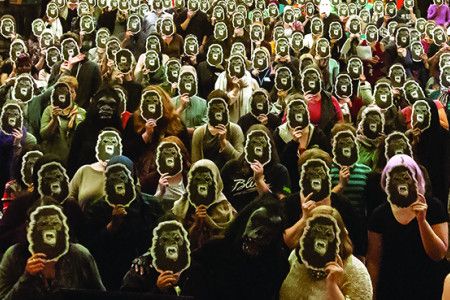 What makes a space an art gallery? What do you enjoy about visiting art galleries and what do you expect to see?
Question the Space asks what can be a work of art, where can a gallery exist and how do audiences engage with the space?
Through a range of works and programs both inside and outside Dandenong's Walker Street Gallery and Arts Centre, audiences are invited to look, participate and connect with the art, the artists and the space.
High profile artists will engage local audiences at various venues across Dandenong. Artists include Rachel Burke, Ross Coulter, Jordan Fleming, Guerrilla Girls, Melbourne Art Library, Kent Morris, Dean Norton, Tina Patlas, Kenny Pittock, Nick Selenitsch and TextaQueen.
A program of workshops, artist talks and online tutorials will run throughout the exhibition, including in-person workshops with Kenny Pittock and Ross Coulter and a live online talk with the world-renowned yet anonymous Guerrilla Girls.
Melbourne Art Library will also be hosting a pop-up library at Walker Street Gallery and Arts Centre.
Question the Space will run from Tuesday 21 November 2023 to Friday 1 March 2024. Join us to celebrate the official opening on Saturday 25 November from 2pm.
Visit greaterdandenong.vic.gov.au/question-the-space to find out how you can get involved.
This exhibition will feature some amazing, ground-breaking creatives and Walker Street Gallery and Arts Centre is thrilled to be hosting the work displayed in Dandenong.
More about the artists:
Kent Morris

,

Kenny Pittock

,

Jordan Fleming

and

Dean Norton

featured in this year's NGV Melbourne Now exhibition.

Kenny Pittock

was recently selected as a finalist in the upcoming Woollahra Small Sculpture Prize and the Deakin University Small Sculpture Award.

Dean Norton

won the Vivid Emerging Designer Award in 2021 and won a Prize Designs Award for "best Table of the Year' with Containa in 2022.

Textaqueen

is developing a peer-mentorship artist residency for diverse and disabled artists called TheySwarm, in their Collingwood studio.

Guerrilla Girls

work has been seen across the world including Tate Modern and Whitechapel Gallery in London, Sao Paulo Museum of Art, the Venice Biennale, Van Gogh Museum in Amsterdam, Museum of Military History in Dresden, Art Basel in Hong Kong, and many other places.

Rachel Burke

is a multidisciplinary artist, designer and author based in Brisbane who has exhibited her work in gallery spaces across Australia, including the Museum of Brisbane, Saint Cloche Gallery, Hamer Hall, ACMI, Enough Space, GAFFA and the Redlands Art Gallery. Some of Rachel's collaborations include Disney, Lego and Barbie. She recently dressed and had her works acquired by Harry Styles, Miley Cyrus and Mindy Kaling.
FOR MEDIA INFORMATION:
Vera Hu
T 8571 5433 I M 0423 895 832 I E vera.hu@cgd.vic.gov.au
Emma Smith
T 8571 5104 | M 0409 021 244