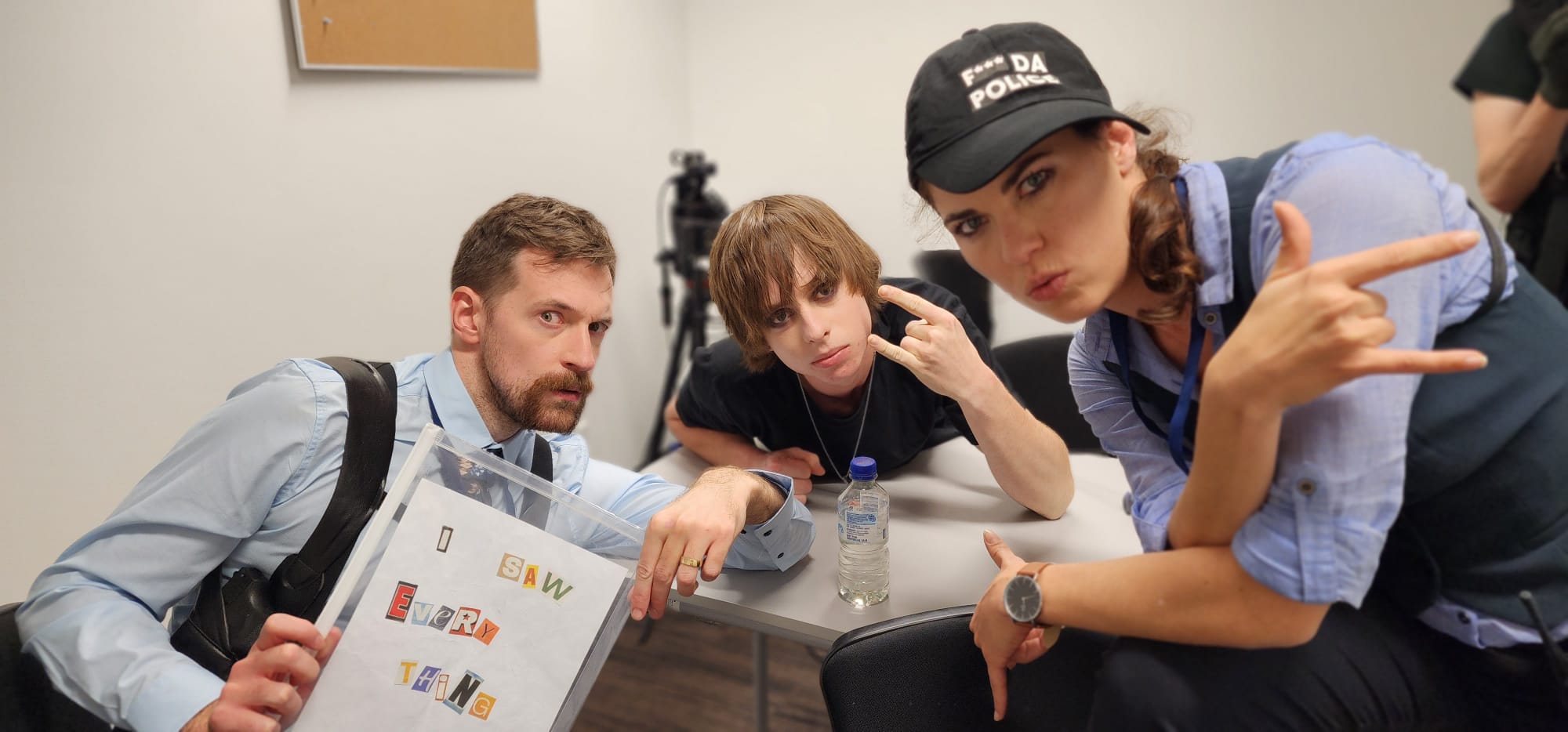 Backed by Screen Australia and YouTube's highly coveted Skip Ahead initiative, ArtSpear Entertainment, whose audience totals over 2.87 million YouTube followers, have debuted their new true crime mockumentary series, racking up thousands of views.
In collaboration with a star-studded cast and crew, the first episode of UnTrue Crime premiered on November 4th, with another five episodes to air weekly on ArtSpear Entertainment's YouTube channel, which has amassed over 600 million views.
Joe Bauer takes the helm as both writer and director on UnTrue Crime, while Rita Artmann takes charge as writer and producer.
The six-part parody UnTrue Crime follows woefully incompetent Detectives Spoink (Artmann) and Hoggman (Bauer) who stumble into a classic murder scenario full of twists.
ArtSpear Entertainment co-owner and producer Rita Artmann says the series is a comical exploration of true crime that will captivate audiences in late 2023.
"We're excited to share Detectives Spoink and Hoggman's story, who retrace their stumbling footsteps through an investigation into a classic murder scenario and it's a question of how many times they get wrong, before they accidently get it right," says Ms Artmann.
"The series was funded by Screen Australia and YouTube, which is incredible for us, as it's our first time working with a budget and funding."
Alongside ArtSpear's creative duo Rita Artmann and Joe Bauer, UnTrue Crime includes renowned comedy creator and influencer Lyanna Kea and acclaimed composer Amara Primero, known for her work on the Murder of Lyn Dawson, Ivan Milat Buried Secrets and the disappearance of William Tyrrell.
In support of UnTrue Crime, ArtSpear collaborated with Australian musicians Bianca Hendy, Michael Collins and Tom Wilson to create an original comedy song 'Stop Calling Us Pigs'.
The track features in the series and the full song and music video will be launched on the 16th of December after the series finishes airing.
ArtSpear Entertainment co-owner and director Mr Bauer says they are hoping that the series attracts the attention of a streaming platform or broadcast network.
"We are currently developing the story for season two, which we would like to produce on a larger scale and expand into half-hour episodes," says Mr Bauer.
"YouTube can act as a launchpad to showcase creative potential and capture the attention of audiences and streaming services alike.
"Getting picked up by a broadcast network or streaming service would be the culmination of our journey on YouTube and a chance to share our stories with an even broader audience."
UnTrue Crime comprises of some exceptional talents including Aaron Singfield, an award-winning cinematographer celebrated for his work in A Godless Country, Tracie Filmer, a skilled actress known for her compelling performance in In Our Blood, Fraser Anderson, a versatile actor recognized for his role in Black Snow, and Daniel Cordery, a filmmaker with expertise in VFX and a prominent YouTuber boasting 115K subscribers for his channel, Cordzfx.
Known for their viral video parodies and compelling content, ArtSpear Entertainment has a number of upcoming projects including Fanfictasia, the fourth part in their animated pop-culture crossover murder mystery series, which is a spin-off series to their most popular animated series The Super-Bowl Saga.
ArtSpear Entertainment is an independent production company located on the Gold Coast and has produced award-winning feature films The Killage and Australiens as well as web comedy series The Void and animated parody YouTube series Toon Sandwich.
For further information about ArtSpear Entertainment, please visit youtube.com/@ArtSpearEntertainment
Key Facts:
The first episode of ArtSpear Entertainment's UnTrue Crime has aired on their YouTube channel. You can view the episode here: https://www.youtube.com/watch?v=569GTsthpBk
Contact details:
Melinda Burton
0400 740 067