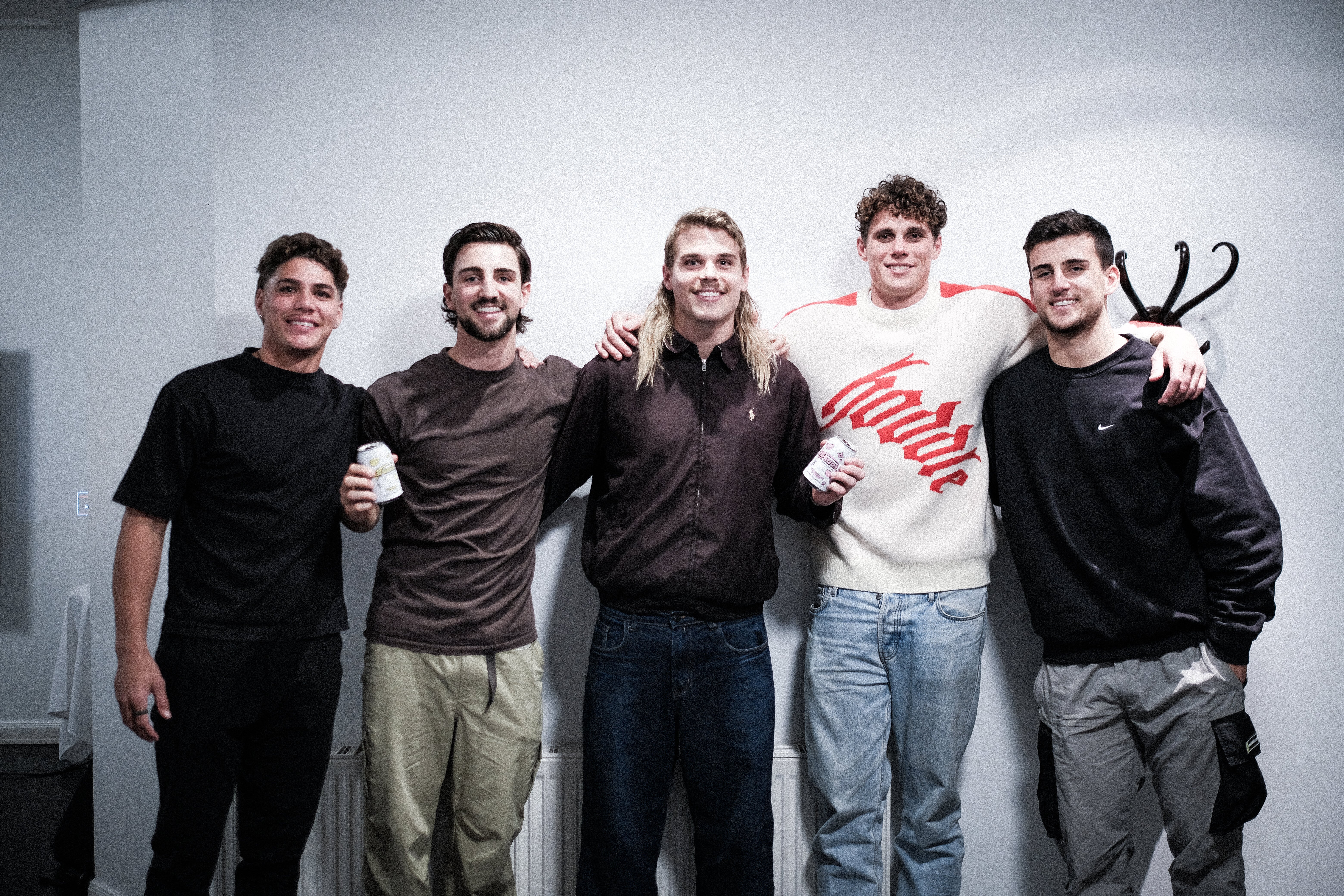 BARRY is here.
Alter Ego Drinks is proud to announce the launch of BARRY, a new Australian-made ready-to-drink product made with Shochu, Vodka, and Soda Water, with a combination of two fresh flavours, Crushed Lemon and Watermelon and Lemon.
Inspired by the bars in downtown Tokyo, BARRY is the brainchild of one of the AFL's most sought-after talents, Bailey Smith. Smith fell in love with the fresh and crisp taste of the lemon, shochu, and vodka cocktails, and was disappointed there was nothing in the Australian market that could compare.
He enlisted the expertise of Vincent Ruiu, a former marketing executive from Carlton & United Breweries and Campari International, to fast-track the creation of BARRY for the Australian market.
Together, they formed Alter Ego Drinks, a parent company to drive the entrepreneurial endeavours for athletes and talent, with Smith at the forefront of the innovation.


They recruited four of Australia's biggest sports stars as partners Reece Walsh (Brisbane Broncos, NRL) Nick and Josh Diacos (Collingwood FC, AFL), and Charlie Curnow (Carlton FC, AFL), who each have their own brand aspirations in development.
Bailey Smith, Alter Ego Drinks Co-Founder, said:
"Developing BARRY has been such an awesome experience - everything from the flavour development, branding, and production to the distribution. We did so many versions of the watermelon and lemon flavour, I wanted it to be the perfect bev for summer - light, refreshing and sessionable (in moderation of course).


"BARRY has given me a creative outlet and allows me to expand my career in addition to what I'm doing in footy. My commitment to footy remains number 1, but this passion project has allowed me to grow as a person outside of the game.
"What started as an idea after enjoying a few cocktails in Tokyo has quickly become a reality - full credit to the BARRY and Coles Liquor team who have worked tirelessly to bring this to life.
"We made BARRY to bring friends and family together and to enjoy the good times, and I'm so excited for people to be able to try it."
Vincent Ruiu, Alter Ego Drinks Co-Founder, said:
"It has been awesome working with such an elite roster of talent to bring BARRY to life. You can see why they excel on-field, their appetite for hard work and their determination to bring the very best product to market has applied from concept right through to delivery.
"Because of this, we have been able to fast-track a process that would normally take 18 months or so, and the Coles Liquor team has been instrumental in getting this done, culminating in a national rollout this week."
Sophie Went, Coles Liquor Business Category Manager Spirits & RTDs said:
"We're excited to welcome BARRY exclusively to our Liquorland and First Choice Liquor Market shelves. We're confident our customers are going to want to share BARRY with friends at their footy finals BBQs and summer celebrations.
"Being first to market with BARRY was a no-brainer for us. We knew that when you get five of the biggest athletes in the country together, they were going to channel their competitive spirit, passion and drive to succeed into a new drink that was going to deliver on flavour and innovation for our customers."
BARRY is made in Australia from local and imported ingredients, consists of real fruit flavours, is low in carbohydrates, calories, and sugar, is vegan friendly and gluten-free.
BARRY will be available nationally across all Liquorland & First Choice Liquor Market stores and online from 25th September, with an RRP of $25 for a 4pack and $90 for a 16 pack.
- ends -
BARRY product information:
BARRY Crushed Lemon – A new summer classic. Super refreshing and flavoured with real lemon juice to provide a balanced, crisp, and clean taste.
BARRY Watermelon & Lemon – the perfect combination to provide a clean and refreshing summer drink. The watermelon complements the acidity of the lemon leaving you wanting more and more.
Ingredients:
Shochu: Traditional Japanese spirit made in Australia from fermented rice and distilled to a minimum of 25% abv

Vodka: Australian GMO-free grain distilled through a continuous still until it's the highest purity and neutral in flavour and colour

Real lemon Juice from Mafra, All Natural Flavours

Natural Japanese lemon flavour: Refreshing lemon/lime flavour: tart, zesty & juicy.

Natural lemon flavour: Tangy juicy lemon flavour typical of the Eureka variety.

Natural watermelon flavour: Juicy, bright, and fresh, typical of a ripe watermelon.

BARRY is made in Australia from local and imported ingredients.

BARRY is Low CARB, Low Cal, Low Sugar, Vegan Friendly & Gluten Free. It's 5.6% ABV, and 1.5 Standard Drinks per can
Key Facts:
BARRY media assets can be downloaded here.
Instagram: barrysdrink
Contact details:
For further information, samples, or interview requests please contact Princepr.
Britt Prince, britt@princepr.com.au | 0421 990 863