The latest National Shelter-SGS Economics and Planning Rental Affordability Index shows only three Victorian postcodes outside of Greater Melbourne have affordable rentals in 2023.
These are Kerang in the state's north (3579), Nhil in the northwest (3418) and Numurkah north of Shepparton (3636). An affordable rental, with a rental affordability index (RAI) score of between 151 and 200 is when rent comprises up to 15 per cent of household income.
The Surf Coast is the most expensive area for renters, with Torquay (3228), Barwon Heads and Ocean Grove (3227), requiring the average rental household to spend more than 38 per cent of income on rent.
Since 2019, affordability in Apollo Bay (3233) has declined from acceptable to severely unaffordable. Rental affordability in Bendigo and Shepparton has also declined from moderately unaffordable to unaffordable since 2022.
"These stark figures show Victoria's housing and rental affordability crisis continuing to plumb new depths and everybody – families, workers and the broader economy – is losing out," Emma Greenhalgh CEO National Shelter said.
"People who are priced out of metropolitan Melbourne would usually look to regional areas. But now only three very small areas of Victoria are considered affordable. Put another way, there are only three postcodes where the average household can get a rental that costs less than 15 per cent of total income, and these are not areas with significant job opportunities or other supports to lift people out of poverty."
Chief of Services at Brotherhood of St Laurence, Julie Ware, said: "The rental crisis means there is virtually nowhere in regional Victoria that is genuinely affordable for people on low incomes and income support payments.
"It is wrong that those who are already facing significant poverty and barriers to work are left to pay the price for this unacceptable market failure."
For people on low incomes such as single people on Jobseeker, single or coupled pensioners, and single part time worker parents on benefits, rents were classed as either unaffordable, severely unaffordable or extremely unaffordable.
For those on the average annual household income in regional Victoria of $81,566, rental affordability has slipped to a moderately unaffordable score of 112. This means the average rental household is spending 27% of income on rent.
Unaffordability is hurting the economy too. "Unaffordability has spread from Melbourne to well into the regions. Households have to live further away from where the jobs are to access affordable rents, and businesses are struggling to find workers. Nursing homes are struggling to find nurses, schools to find teachers and the building sector to find builders to build houses", according to Ellen Witte, Principal at SGS Economics & Planning.
"This downward spiral has now reached the point where very few affordable long-term rentals are on offer." SGS Economics & Planning Principal, Ellen Witte said. "We need to attack this problem from multiple angles. This means expanding rapidly social and affordable housing, rethinking how we use tax subsidies and strengthening renters' rights.
"Regional Victoria's rental affordability will continue to deteriorate from crisis to catastrophe without urgent intervention from state and federal governments."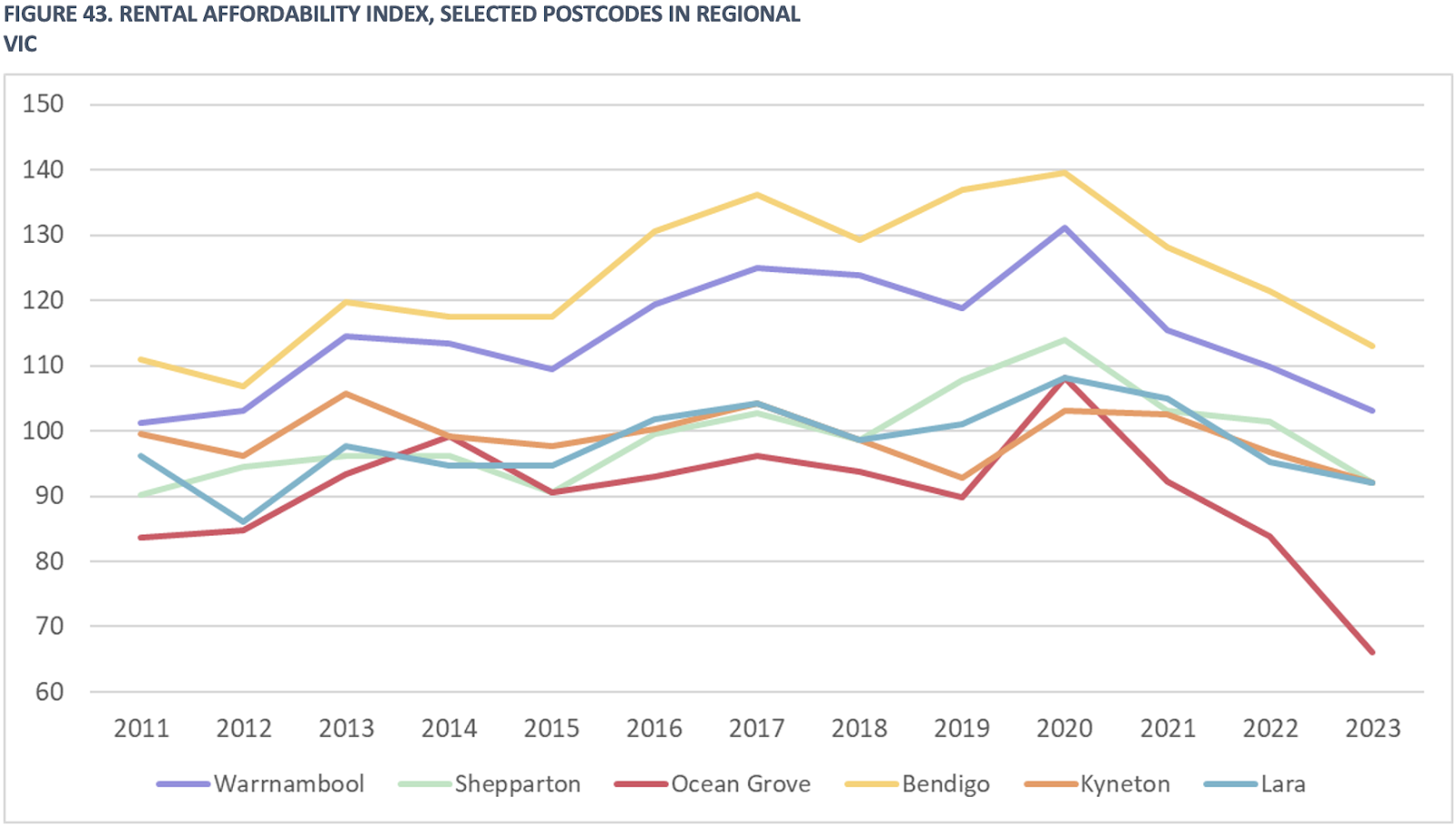 Household Affordability Percentage of rent RAI score
| | | | |
| --- | --- | --- | --- |
| Single people on Jobseeker | Extremely unaffordable | 64 per cent | 47 |
| Single part time worker parent on benefits | Severely unaffordable | 41 per cent | 74 |
| Single pensioner | Severely unaffordable | 38 per cent | 78 |
| Hospitality worker | Extremely unaffordable | 121 per cent | 25 |
| Student sharehouse (renting three bedroom home) | Extremely unaffordable | 116 per cent | 26 |
EDITOR'S NOTE:The rental affordability index scores areas based on median rental prices and average income of rental households within the capital city or rest of state area'. A score of 100 indicates households spend 30 per cent of income on rent, the critical threshold level for housing stress. A lower score is worse.
A score of 50 or less indicates extremely unaffordable rents, 51-80 indicates severely unaffordable rents, 81-100 indicates unaffordable rents, 101-120 indicates moderately unaffordable rents, 121-150 indicates acceptable rents, 150 or more indicates affordable rents.
Media contact:
Georgie Moore 0477 779 928